Summary:
Cinder, the cyborg mechanic, returns in the second thrilling installment of the bestselling Lunar Chronicles. She's trying to break out of prison—even though if she succeeds, she'll be the Commonwealth's most wanted criminal.
Halfway around the world, Scarlet Benoit's grandmother is missing. When Scarlet encounters Wolf, a street fighter who may have information about her grandmother's whereabouts, she is loath to trust this stranger but is inexplicably drawn to him, and he is to her. As Scarlet and Wolf unravel one mystery, they encounter another when they meet Cinder. Now all of them must stay one step ahead of the vicious Lunar Queen Levana, who will do anything for the handsome Prince Kai to become her husband, her king, her prisoner.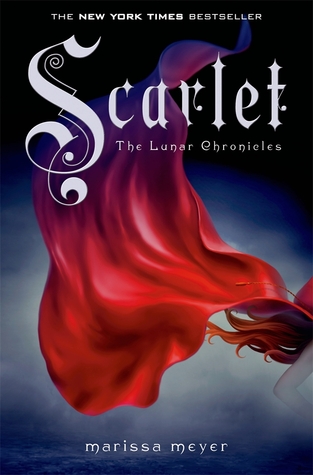 Review:
As I said in my review of Cinder (READ HERE), I am rereading this series via audiobook because it's been a long time since I read them. I don't remember all that many details about the books and I've heard great things about the audiobooks. I'm glad I decided to do this because I'm having a great time. The narrator is excellent. The more I listen, the more I'm loving her narration. She really helps to bring me into the story. There were certain parts that really wowed me when she was narrating, she filled the story with emotion and drama and I'm really enjoying it. There were a few moments at the beginning where I was confused because I didn't realize that the story jumped between perspectives. I don't know why, but I thought it just followed Scarlet. So the first few times the narrator switched between points of view it took me a second to realize that we had switched.
I do have to say that Scarlet took a darker turn than anticipated. I know it's a Little Red Riding Hood retelling, and the original tales are pretty dark, but this book got pretty dark pretty quickly. It was interesting for sure, just a little surprising.
I really loved Scarlet as a character. She was fierce and fiery. She would stop at nothing to protect and rescue the people she loves, even when she learns that those people have been keeping secrets from her. I can't wait to see more of her.
Wolf is one that I'm still not sure how I feel about him. He has a bit of development, and see more coming. But I feel like we didn't get to see it in this book. I'm interested to see his role in the coming books.
Cinder and Thorne are interesting. Cinder is one that's starting to realize what she really needs to do. She needs to accept the responsibility that she has learned rests on her shoulders. She's trying to take things one step at a time but one thing after another keeps getting in the way until she meets Scarlet. I think they're going to make an interesting team for sure.
Overall, this book surprised me. I really loved all the characters, the plot twists, the development. Scarlet had all of the good things I wanted with a narrator that I just keep loving more and more. I can't wait to start Cress next.
Keep on reading lovelies, Amanda.