Summary:
Princess Winter is admired by the Lunar people for her grace and kindness, and despite the scars that mark her face, her beauty is said to be even more breathtaking than that of her stepmother, Queen Levana.
Winter despises her stepmother, and knows Levana won't approve of her feelings for her childhood friend–the handsome palace guard, Jacin. But Winter isn't as weak as Levana believes her to be and she's been undermining her stepmother's wishes for years. Together with the cyborg mechanic, Cinder, and her allies, Winter might even have the power to launch a revolution and win a war that's been raging for far too long.
Can Cinder, Scarlet, Cress, and Winter defeat Levana and find their happily ever afters? Fans will not want to miss this thrilling conclusion to Marissa Meyer's national bestselling Lunar Chronicles series.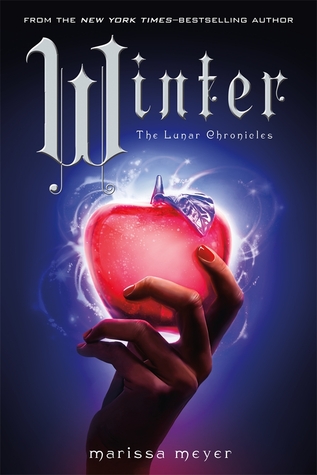 Review:
I feel like I flew through this series up until I got to this book. Even though I did listen to this final audiobook (that is TWENTYFOUR hours long) in less than a week. Something about Winter just dragged. Though nothing in the story was actually going slowly. There were some periods of slowness where the characters needed to figure out what to do next and make plans and travel, but there was enough action to keep up the pace of the story. There was just something about it that dragged. I found myself about 80% through wondering if it was ever going to end. It's not that I wasn't interested.
I loved the characters of this series. There is such a fun and interested squad of characters. They are all so different and I loved each of them so much. They all grow and go through so much in these four books but especially in this finale. Cinder has come to take back her throne and everything she's been planning is finally happening. I do wish that we'd gotten more of her and Kai, but I have a feeling that will be happening in Stars Above. Cress and Thorne were by far my favorite (Cress was my favorite book in the series). This doesn't surprise me too much because Rapunzel is my favorite fairytale. I loved Thorne's character growth and the happy ending that they get. Winter and Jacin were my second favorite. They had me cackling and laughing all over the place. I just loved Winter. She's weird but courageous, putting herself last above what she things is the right thing. Jacin is not afraid to do whatever it takes to protect Winter. I just loved it. Then there's Wolf and Scarlet. They go through so much being split up over and over and they manage to overcome it all again and again.
I also really liked the villain, Levana. She's so interesting and intense. We see her as she goes from all-powerful to mostly just insane and it's such a fascinating journey. She's such a compelling villain. I'm excited to read her novel, Fairest.
I have to mention the retelling aspect of this series. I though Meyer did an incredible job putting her own twist on these classic stories. I just thought it was such a compelling aspect of these books.
Finally, the narrator. I have mentioned her in each of my reviews but it's because she deserves it. She really becomes these characters. They each get their own distinct voice and I just am awed by this narrator's ability to bring me into the story and put passion and ferocity into the voices. There were parts with Levana and Cinder that just wowed me.
Overall, I loved this book. I loved this series. I loved the narrator. I loved the characters. Everything about this series was well thought out and well excecuted. I adored the fairytale twists and the science fiction twists. This is a must-read series if you haven't picked it up yet.
Keep on reading lovelies, Amanda.