Summary:
When violinist Anna Sun accidentally achieves career success with a viral YouTube video, she finds herself incapacitated and burned out from her attempts to replicate that moment. And when her longtime boyfriend announces he wants an open relationship before making a final commitment, a hurt and angry Anna decides that if he wants an open relationship, then she does, too. Translation: She's going to embark on a string of one-night stands. The more unacceptable the men, the better.
That's where tattooed, motorcycle-riding Quan Diep comes in. Their first attempt at a one-night stand fails, as does their second, and their third, because being with Quan is more than sex—he accepts Anna on an unconditional level that she has just started to understand herself. However, when tragedy strikes Anna's family she takes on a role that she is ill-suited for, until the burden of expectations threatens to destroy her. Anna and Quan have to fight for their chance at love, but to do that, they also have to fight for themselves.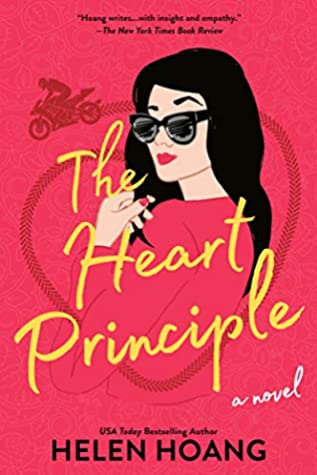 Review:
The Heart Principle is the third book in The Kiss Quotient series. I loved the first two books in this series, so it's no surprise that I really enjoyed this one too.
We follow Quan (who we met in previous books) and Anna. Quan had cancer and he's now in remission, but this former playboy hasn't really tried to get back into the dating world. Anna is a musician that's really struggling. She's having trouble with her music, and then her long-term boyfriend tells her that they should start seeing other people to make sure that the pair should get married. Anna and Quan both download a dating app and that's how they meet. Things go from there.
I feel like the first two books in this series focused a lot more on the actual romance between the couples where The Heart Principle focused more on the emotional struggles of the two main characters. I liked that their romance was a slow burn and took its time. But the characters are what made the story. Quan was such a soft and sweet man. He's dealing with his own issues and insecurities, but he always made a point to make sure Anna was comfortable. Anna was incredibly unsure, about everything. We see her visit with her therapist and we see her in the throes of depression. We also see her learn that she is on the autism spectrum. Anna's journey learning things like this about herself was the biggest focus.
Overall, I wanted more of the romance between Quan and Anna, but I loved what we got. I think I just wanted the book to be longer. Both characters are dealing with so much. I wanted more time to see them happily together. It's a much heavier book than the first two, I think. I think this will absolutely be a hit, just like the first two.
Keep on reading lovelies, Amanda.