GoodReads Summary:
A big-hearted romantic comedy in which First Son Alex falls in love with Prince Henry of Wales after an incident of international proportions forces them to pretend to be best friends…
First Son Alex Claremont-Diaz is the closest thing to a prince this side of the Atlantic. With his intrepid sister and the Veep's genius granddaughter, they're the White House Trio, a beautiful millennial marketing strategy for his mother, President Ellen Claremont. International socialite duties do have downsides—namely, when photos of a confrontation with his longtime nemesis Prince Henry at a royal wedding leak to the tabloids and threaten American/British relations.
The plan for damage control: staging a fake friendship between the First Son and the Prince. Alex is busy enough handling his mother's bloodthirsty opponents and his own political ambitions without an uptight royal slowing him down. But beneath Henry's Prince Charming veneer, there's a soft-hearted eccentric with a dry sense of humor and more than one ghost haunting him.
As President Claremont kicks off her reelection bid, Alex finds himself hurtling into a secret relationship with Henry that could derail the campaign and upend two nations. And Henry throws everything into question for Alex, an impulsive, charming guy who thought he knew everything: What is worth the sacrifice? How do you do all the good you can do? And, most importantly, how will history remember you?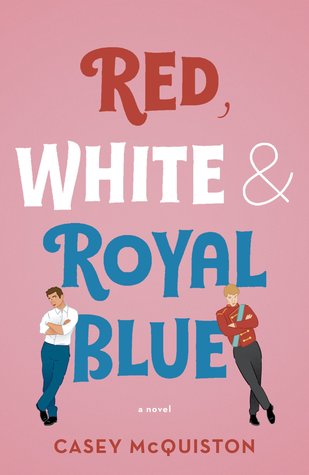 Review:
I received and eARC of Red, White and Royal Blue via NetGalley I exchange for my honest review. After seeing everyone and their siblings absolutely raving about this book, I knew I needed to read it asap. I'm glad that I did because this book was funny and enjoyable from beginning to end.
I totally loved Alex. He was funny and someone I'd totally be friends with in real life. I loved the relationship he had with the White House Trio. The three were a well-oiled machine and I love sibling relationships and friendships like this one. Alex's mom and dad were also characters I liked. A female president? Yes please. She was a mother and the most powerful woman in the world and I liked that we got to see a little bit of her trying to balance that.
Henry and Alex were the best hate to love relationship I've seen in a long time. They were hilarious and several times I almost woke up my sleeping child because I was laughing so hard while reading. They were both sassy but also heart meltingly sweet and I freaking loved it.
There was so much to this story that I don't know how to put my words into thoughts. So I'm going to keep this short. Overall, I adored the story. It made me laugh. It held me in suspense. It worried and delighted me. I loved all the different relationships (including the security people) that were present and added just that little bit more. I can't wait to see what Casey McQuiston comes out with next.
Keep on reading lovelies, Amanda.