Summary:
Mare Barrow learned this all too well when Cal's betrayal nearly destroyed her. Now determined to protect her heart—and secure freedom for Reds and newbloods like her—Mare resolves to overthrow the kingdom of Norta once and for all… starting with the crown on Maven's head.
But no battle is won alone, and before the Reds may rise as one, Mare must side with the boy who broke her heart in order to defeat the boy who almost broke her. Cal's powerful Silver allies, alongside Mare and the Scarlet Guard, prove a formidable force. But Maven is driven by an obsession so deep, he will stop at nothing to have Mare as his own again, even if it means demolishing everything—and everyone—in his path.
War is coming, and all Mare has fought for hangs in the balance. Will victory be enough to topple the Silver kingdoms? Or will the little lightning girl be forever silenced?
In the epic conclusion to Victoria Aveyard's stunning series, Mare must embrace her fate and summon all her power… for all will be tested, but not all will survive.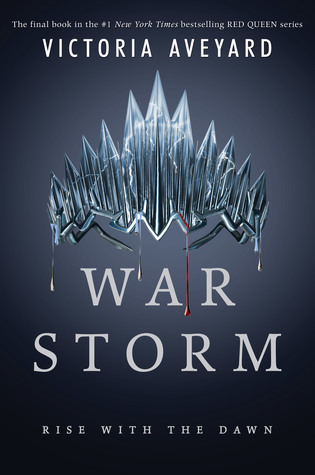 Review:
I wanted to like this finale more than I did. As with most books, there were things I liked and things I didn't. I think I'm going to organize this review like I have with a few other series conclusions in the past because there's just too much going on for me to talk about it in my traditional format.
Things I liked-
The changing perspectives was probably my favorite thing about this book. It was done in the previous book too (see my review for King's Cage). I really felt like we got to see into the heads of the rest of the characters that play a part in this story. I started to really feel for certain characters (read: Evangeline) instead of hating them like I did in previous books. Seeing things from her point of view, what her thoughts and opinions were rather than just the face she puts on for the world was really interesting and was the best part of this book. The same goes for Iris. I liked seeing her plans and thoughts. The way that her country works and what her values and ideals were.
I liked seeing the different parts of the world. We get to see the Lakelands and more of Montfort. I enjoyed exploring more of the world. Along with this, we're learning more about the Newbloods and how the world is changing.
Finally, I liked the action. The fighting was exciting and fun. I thought the battles they chose and the places they strike were good choices. I was convinced that Aveyard was going to kill a certain character, but she didn't thankfully.
Things I didn't like-
The ending. I wanted more. This was not very satisfying to me.
Mare and Cal. I remember being pretty broken up with their drama in the last book, but reading this one and the choices they both make just annoyed me. I wanted them to just get over it all. I didn't care if they ended up together or not. I didn't care about them in general.
Which leads me to the rest of the characters. For a book so thick, there was so much focus on characters I didn't care about. In the first few books, we're learning all about these Newbloods. Rescuing them and training them, but then we just get two or three sentences here and there about them and no further development. I really didn't appreciate that.
Overall-
I'm happy for the series to finally be over and to see it concluded (though I am excited for the novella collection coming out in May.) I found myself really struggling to pick this book up and actually want to read it. I think maybe pushing myself to finish it despite these feelings made me enjoy it less but I didn't want to keep waiting and then forget everything from the first three books. I'm glad I read the series because I did enjoy it, but I'm equally glad for it to be over.
Keep on reading lovelies, Amanda.