Summary:
New Liberty City, 2134.
Two corporations have replaced the US, splitting the country's remaining forty-five states (five have been submerged under the ocean) between them: Stellaxis Innovations and Greenleaf. There are nine supercities within the continental US, and New Liberty City is the only amalgamated city split between the two megacorps, and thus at a perpetual state of civil war as the feeds broadcast the atrocities committed by each side.
Here, Mallory streams Stellaxis's wargame SecOps on BestLife, spending more time jacked in than in the world just to eke out a hardscrabble living from tips. When a chance encounter with one of the game's rare super-soldiers leads to a side job for Mal–looking to link an actual missing girl to one of the SecOps characters. Mal's sudden burst in online fame rivals her deepening fear of what she is uncovering about BestLife's developer, and puts her in the kind of danger she's only experienced through her avatar.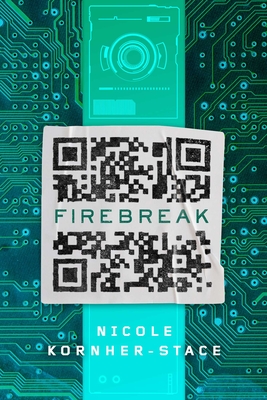 Review:
Firebreak follows Mal, who is a gaming streamer in a terrifyingly realistic dystopian future. It's about 100 years or so in the future and two corporations have taken over the United States. One controls the water supply for the population and the other controls the agricultural supply for the population. Climate change has ravaged the coasts and the war between these two corporations has done its own damage. Mal lives in what was once a nice hotel in the city. She shares one room with like six other people. When she's not working odd jobs (dog walking, babysitting, attempting to brew beer) she's gaming and streaming with her best friend and roommate, Jessa. The two manage to spot one of the rarer special operatives in the game (read: the special operatives are essentially celebrities in this world) and talk to her for about a half a second before the power is cut for the day. This thrusts them into a minor spotlight, just enough to grab the attention of B. B is a mysterious sponsor who, after meeting with Jessa and Mal, shares a theory that she and others have about the special operatives. This is where the story really gets going.
I really liked Mal. She sort of held herself apart from her other roommates, and kept to herself. But I really was a great moment when she realized what a mistake that had been. That she should have taken more time to get to know them all. I loved her loyalty and love for Jessa. The two of them were and excellent friendship dynamic with how they pushed and pulled each other when it was called for. I liked how they complimented one another. But I liked Mal outside of her relationship with Jessa too. We get to see her act selflessly, recklessly, and with her whole heart. She was a really well-developed character and one that I enjoyed following through this story.
As for the story itself, oh man, what a wild ride. We get a brief summary of how the world ended up the way that it is in the story. Though I usually like more backstory and world building, I found that I liked learning how this future worked as the story went on. We see how society works as we follow Mal and we see what's wrong with it as she does. I think that Mal questioning the status quo felt natural for her character. And everything after was really well done. The story starts with a slow build-up, showing us the world. Then starts to show what's wrong with it, and once Mal's eyes are opened to the theory that B shares, there's just nonstop action. Also, I don't know if this was on purpose, but I really thought the way the author took things from the game that Mal and Jessa play and started showing that same violence and action in the real world was absolutely fascinating.
Overall, this book was a wild ride to say the least. It's a book that shows characters fighting for their basic human rights, against corporations that are just trying to wring every dollar out of anyone they can. I absolutely enjoyed this one and I will definitely be looking into this author's backlist.
Keep on reading lovelies, Amanda.