Summary:
With her newly completed PhD in astronomy in hand, twenty-eight-year-old Grace Porter goes on a girls' trip to Vegas to celebrate. She's a straight A, work-through-the-summer certified high achiever. She is not the kind of person who goes to Vegas and gets drunkenly married to a woman whose name she doesn't know…until she does exactly that.
This one moment of departure from her stern ex-military father's plans for her life has Grace wondering why she doesn't feel more fulfilled from completing her degree. Staggering under the weight of her parent's expectations, a struggling job market and feelings of burnout, Grace flees her home in Portland for a summer in New York with the wife she barely knows.
In New York, she's able to ignore all the constant questions about her future plans and falls hard for her creative and beautiful wife, Yuki Yamamoto. But when reality comes crashing in, Grace must face what she's been running from all along—the fears that make us human, the family scars that need to heal and the longing for connection, especially when navigating the messiness of adulthood.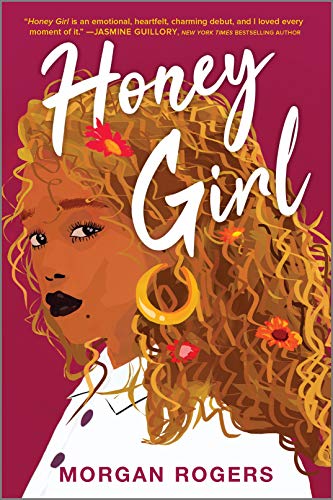 Review:
Going into Honey Girl, I was expecting a fun and humorous romance between two women. That's not what this story is, for those that, like me, thought this was a romance novel. Don't get me wrong, there is a romantic relationship (that I would die for) in this book, but at its heart, this is a story about the main character feeling lost after her life plan has come to an end. This is a story about lonely creatures wondering what comes next and of feeling lost underneath all of the expectations of others.
Honey Girl follows Grace Porter as she's trying to find her way into the career field of astronomy. She's just graduated with her PhD in astronomy and her first interview was so bad that she walked out on the interviewers. Grace is black and a lesbian, so she not only faces the struggle of being a woman in this scientific field, but also those that come with being black and queer. Grace and her two best friends, Ximena and Agnes, take a vacation to Las Vegas to blow off some steam now that Grace has finished her degree. Grace wakes up the next morning with hazy memories of a girl who smells of sea-salt. With a picture, and a quickly written note, and her memories, Grace realizes she got married the night before to someone whose name she can't even remember. After returning home, she receives rejection after rejection from jobs she's interviewed for. She feels lost, but she doesn't know what to do about it. Her whole life she's had a plan and she's followed that plan. But what is she supposed to do when there isn't a plan to follow any longer?
Grace keeps her marriage a secret until one night, she finally confides in her two best friends. Together the three of them listen to Yuki's radio show about monsters. These monsters reflect humanity and loneliness. Grace works up the nerve to call Yuki, finding herself intrigued by this girl who smells of flowers and tells stories of monsters. With the pressure of her life and expectations from others, Grace escapes Portland and flees to New York, to Yuki.
I cannot say enough good things about this book. I have to start by talking about the writing. This story was written so beautifully. The words were lyrical, emotion-filled, and a tad whimsical. I highlighted so many lines from this story on my Kindle. There was no way I wasn't going to get pulled into this story. To believe that these monsters Yuki talks about might just be real. Now, Grace, she's really struggling but she doesn't know how to talk about it or what to do about it. I really appreciated that because I honestly feel like that's where I am currently. I finished my degree in 2020 and I know what I want to do next, but unlike Grace, I don't know how to stick to the plans I make. I loved seeing Grace and Yuki fall in love. Following them as they got to know one another was an honor. They were both such fascinating characters that I couldn't help but love them individually and together. I love that they got their happy ending.
There are several different kinds of love shown in this story. The obvious one, romantic love, between Yuki and Grace. But there's also so many amazing friendships. The platonic love between Grace and her two best friends was a joy to read about. All three of them are imperfect humans, but getting to know these three was hard and wonderful. It reminded me of my relationship with Antonia (love you so much it hurts). There is also the love between siblings. Meera and Raj are Grace's sister and brother by choice rather than by blood. I loved the three of them interact. But even more, I enjoyed seeing Grace's relationship with them individually. Meera and Grace work together at Meera's family's tea shop. Meera knows what to say, when to say it, and when to say nothing at all. Then there's Raj, Graces older brother. When they see each other in New York it was so hard to read, but their love for one another was so clear. Only those that love you know exactly what to say to hurt you. Finally, Grace's parents divorced when she was young. She doesn't have the best relationship with her mother and her father is a Colonel in the military and raised Grace like she was one of his soldiers. It's his expectations that she's trying and failing to live up to. I liked the development of Grace's relationships with them. There's progress by the end of the book, but everything isn't suddenly 'all better.' This was realistic and I really liked it.
There are some really tough topics covered in this book, including but not limited to: racism, sexism, mental health, self-harm, and homophobia. I think these topics were discussed and included with thoughtfulness and care. (Though I'm not the authority on that for racism, but this is an own voices story.) I think this story was hard to read at times, but it's such an important one that I hope many people read and love as much as I do. I think the discussion surrounding therapy was so good and so important. There are several characters that talk about going to therapy and talking to their therapists. It's always discussed in a positive light and I really appreciated that. There's even a scene of Grace finding the right therapist (meaning she goes to several before she finds one that is right for her).
Finally, the found families. Both Grace and Yuki have created their own families. We get to meet Grace's while she's still in Portland and we continue to see them throughout the story. I loved them almost as much as I loved Grace and Yuki. Once Grace gets to New York, we meet Yuki's roommates, her found family. They are all hilarious and hardworking people. I loved them too.
Overall, Rogers has created a story that will linger in my mind long after I've finished reading it. The writing was nothing short of beautiful. The characters were diverse, well developed, so funny, and a genuine pleasure to read about. This is a story about a woman trying to find her place in the world, trying to find out what comes next, and I think it's such an important story that will speak to so many people. I will be recommending this book until the end of time.
Quotes:
"She is in the stars, bold and bright and beautiful. She is strong and unwavering, and not filled with the sour taste of failure and the weight of unknowns."
""Tonight, I want to talk about the sea," she says. "Is that okay?" She pauses, as if waiting for someone, anyone, maybe even Grace, to answer. "Good. I want to talk about the sea and its dark depths and foaming, white tides and its swelling, hungry waves. The sea isn't inherently supernatural, or even scary. But it holds many unknowns." Her voice quiets. "Sometimes unknowns are the scariest things of all, aren't they?""
"Here is the thing about the tar, the sludge, the inky black poison. Once it starts its ascent out of your body, there is nothing you can do to stop it. It tastes like volcano ash and fire, and you must taste it, and gag on it, and ultimately, you must spit it out. There comes a time when you cannot swallow it down any longer. Everything that is buried will be unburied. Everything that is pushed down will find its way out. It iis the way of the universe."
"There is a small, hollow ache, somewhere deep inside her, but she is learning that she is made up of many small, hollow aches. She will continue the process of exploring them, one by one."
Keep on reading lovelies, Amanda.