Summary:
Jude was seven when her parents were murdered and she and her two sisters were stolen away to live in the treacherous High Court of Faerie. Ten years later, Jude wants nothing more than to belong there, despite her mortality. But many of the fey despise humans. Especially Prince Cardan, the youngest and wickedest son of the High King.
To win a place at the Court, she must defy him–and face the consequences.
As Jude becomes more deeply embroiled in palace intrigues and deceptions, she discovers her own capacity for trickery and bloodshed. But as betrayal threatens to drown the Courts of Faerie in violence, Jude will need to risk her life in a dangerous alliance to save her sisters, and Faerie itself.
From #1 New York Times bestselling author Holly Black comes the first book in a stunning new trilogy filled with twists and enchantment, as one girl learns the meaning of true power when she finds herself caught in a web of royal faerie intrigue.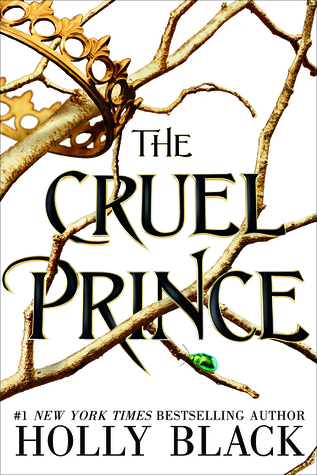 Review:
The Cruel Prince is one of the most hyped books I've ever read in my entire reading life. I've read other more hyped books but I always seem to read them BEFORE they get to be so hyped. I was a bit worried going into this book that the hype would make me hate it. I think that's also part of the reason that I've taken so long to get around to reading this. Without any further delay, here come my thoughts on this beloved story.
"Never? Never is like forever-too big for mortals to comprehend."
I was a little surprised at just how political this book really was. It makes sense that it's a real political story, but I was just surprised by how much the politics and day to day life in faerie really is. I wished we had gotten a little more world building. I think the combination of fantasy and the modern-day world was really interesting. I would have liked to get a bit more setting wise of faerie. I think there was so much opportunity to really give details about the world around Jude, but we didn't get that. We just got politics.
"The human species pretends it is so resilient. Mortal lives are one long game of make-believe. If you couldn't lie to yourselves, you'd cut your own throats to end your misery."
I liked the characters and the family dynamic in this book. I was a bit surprised by how much they seemed to care about one another and how they actually showed affection and all of that. I've heard over and over how the characters are cruel and vicious. They were, but not the family. Everything Jude did toward the end of the book was for her younger brother. I really enjoyed this aspect of the story. I love a good sibling story and I defiantly got some of that with this.
"I have lied and I have betrayed and I have triumphed. If only there was someone to congratulate me."
Overall, I enjoyed this book. I wasn't blown out of the water like so many others but I enjoyed it. I read it quickly. The plot twists surprised me. The characters were compelling and interesting. It just didn't make my new favorites list. I definitely am excited to pick up the sequel soon.
Keep on reading lovelies, Amanda.