Summary:
For as long as she can remember, Tova has lived among the Svell, the people who found her washed ashore as a child and use her for her gift as a Truthtongue. Her own home and clan are long-faded memories, but the sacred symbols and staves inked over every inch of her skin mark her as one who can cast the rune stones and see into the future. She has found a fragile place among those who fear her, but when two clans to the east bury their age-old blood feud and join together as one, her world is dangerously close to collapse.
For the first time in generations, the leaders of the Svell are divided. Should they maintain peace or go to war with the allied clans to protect their newfound power? And when their chieftain looks to Tova to cast the stones, she sets into motion a series of events that will not only change the landscape of the mainland forever but will give her something she believed she could never have again—a home.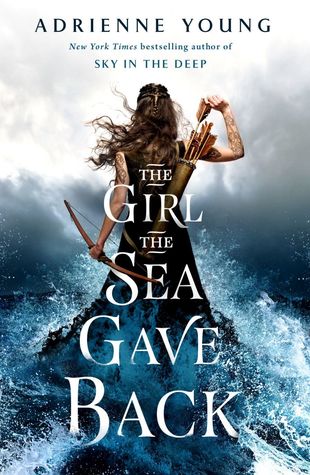 Review:
This is the sequel to Sky in the Deep. The Girl the Sea Gave Back follows Tova and Halvard in alternating points of view. Tova is Kyrr, more specifically a Truthtongue (she can see read the future from casting special stones she has). Halvard is Fiske's younger brother (let me tell you how I screamed when I realized he had his own point of view in this book). It's been 10 years since the events of Sky in the Deep and the Aska and Riki have become one clan, renaming themselves. Tova is living with the Svell clan which is getting ready to wage war again Halvard's clan. Why? I literally have NO clue and I couldn't tell you even if my life depended on it. So, we once again have two clans warring for unknown reasons, except this time, Halvard's clan has known peace for the last ten years.
I'm going to be honest, I pushed through and finished this book only because of Halvard's point of view. I loved him as a kid in Sky in the deep so I was very excited to see him as an adult in this book. He absolutely didn't disappoint. I loved him so much. As for Tova, I felt bad for her. She'd been pretty much abused her whole life, lied to about where she came from and used for her Truthtongue abilities. I was absolutely curious as to what we were missing about her backstory. And I was happy to find out the truth when that twist was revealed.
I liked learning more about the world. It was interesting to see the Svell clan and what they knew about the details of the first book as well as other bits we got to learn about the world. My biggest issue with this story is that I didn't care about the plot literally at all. They're going to war again? Sure, okay, but why? I didn't feel like the motivations were clear at all.
Overall, I liked this book. Not as much as Sky in the Deep, but I still had a good time listening to the audiobook.
Keep on reading lovelies, Amanda.