Summary:
One snowy night a famous Hollywood actor slumps over and dies onstage during a production of King Lear. Hours later, the world as we know it begins to dissolve. Moving back and forth in time-from the actor's early days as a film star to fifteen years in the future, when a theatre troupe known as the Travelling Symphony roams the wasteland of what remains-this suspenseful, elegiac, spellbinding novel charts the strange twists of fate that connect five people: the actor, the man who tried to save him, the actor's first wife, his oldest friend, and a young actress with the Traveling Symphony, caught in the crosshairs of a dangerous self-proclaimed prophet. Sometimes terrifying, sometimes tender, Station Eleven tells a story about the relationships that sustain us, the ephemeral nature of fame and the beauty of the world as we know it.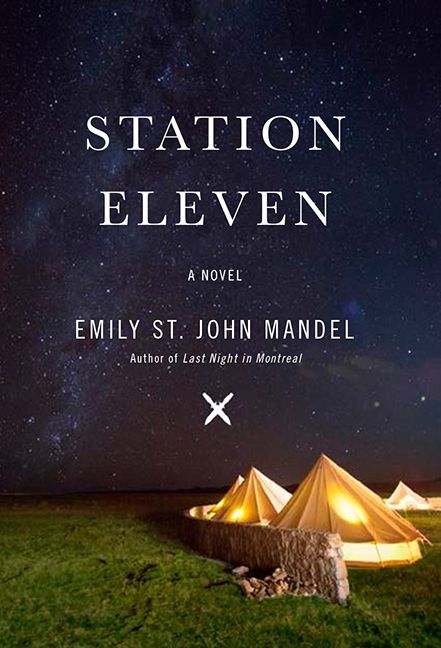 Review:
Station Eleven has been on my tbr for entirely too long. This story follows a wide array of characters before and after a world-changing pandemic. Considering the state of our current world, the bits of the story involving the pandemic that kills 99% of the population was pretty tough to read about as they felt like an all too real possibility for our future. The author painted a vivid picture of how something like this could happen and what the "after" looked like.
As for the plot of this story, there wasn't really one that I could see. But I was okay with that. I'm not usually a fan of only character-focused stories. I like books that have at least some semblances of a plot to follow, to push the characters forward. But following these characters as they lived through the apocalypse and what the world was after that was really compelling.
The characters, as I mentioned above, are what made this story. While I don't think we got to know any of them incredibly well, the way that they were all connected was fascinating. I loved seeing all of the details and bits and pieces slowly coming together to connect the characters in one way or another. The journeys that each character went on were compelling and I cared what happened to each and every one of them, except the Prophet, because fuck that guy.
But the thing that stood out most about this story was the writing. I said earlier that that author paints a vivid picture of what the world might look like after society as we know it has ended. But along with that vivid picture, she points out stark contrasts between so many things, but in subtle ways. The writing was lyrical and beautiful, but also thoughtful and thought-provoking.
Overall, I feel like I just went on a journey with these characters, even though there are a few that I feel I got to know much better than others. I think the writing is really what makes this book such an engaging and compelling story with characters that you can't help but care about. And being set on a backdrop of a post-apocalyptic world made the story that much more interesting. I can absolutely see why so many people love this book.
Keep on reading lovelies, Amanda.