Summary:
The New York Times bestselling coauthor of Gwendy's Button Box brings his signature "thrilling, page-turning" (Michael Koryta, author of How It Happened) prose to this story of small-town evil that combines the storytelling of Stephen King with the true-crime suspense of Michelle McNamara.
In the summer of 1988, the mutilated bodies of several missing girls begin to turn up in a small Maryland town. The grisly evidence leads police to the terrifying assumption that a serial killer is on the loose in the quiet suburb. But soon a rumor begins to spread that the evil stalking local teens is not entirely human. Law enforcement, as well as members of the FBI are certain that the killer is a living, breathing madman—and he's playing games with them. For a once peaceful community trapped in the depths of paranoia and suspicion, it feels like a nightmare that will never end.
Recent college graduate Richard Chizmar returns to his hometown just as a curfew is enacted and a neighborhood watch is formed. In the midst of preparing for his wedding and embarking on a writing career, he soon finds himself thrust into the real-life horror story. Inspired by the terrifying events, Richard writes a personal account of the serial killer's reign of terror, unaware that these events will continue to haunt him for years to come.
A clever, terrifying, and heartrending work of metafiction, Chasing the Boogeyman is the ultimate marriage between horror fiction and true crime. Chizmar's "brilliant…absolutely fascinating, totally compelling, and immediately poignant" (C.J. Tudor, New York Times bestselling author) writing is on full display in this truly unique novel that will haunt you long after you turn the final page.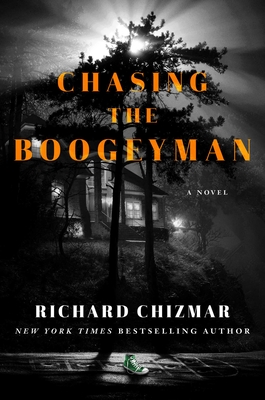 Review:
I read Chasing the Boogeyman for a part of the 12 Recommendations Challenge that was going around on Instagram (thanks @amy for recommending this one). This is a horror novel mixed with non-fiction in a true-crime sort of way. By that I mean, the author Richard Chizmar, is also our main character. And this story takes place in his hometown. We follow him as he's living at home after college for a few months before he gets married. But while he's staying with his parents in his childhood home, something terrible starts to happen in his small town. Four girls are kidnapped and brutally murdered. The worst part? The police can't seem to find the killer but suspect that's it's someone local to the town.
My biggest issue with this book was that I spent entirely too much time wondering what was true and what was false because at the beginning of the story it's explained that some parts of the story are fiction and some aren't. So obviously, I wanted to know which parts were which. I'm here to tell you not to focus on that if you read this book. You will be told what's the truth and what isn't before the book is over. I didn't know that, so I focused too much on wondering. I was totally blown away by the big reveal of what's fact versus fiction in this story and I think that's what made this story so good for me.
Now, the story starts off super slow with a bit of history about the town of Edgewood. But once you get past that, the story has a pretty good pace. It was really hard not to get sucked into the drama and suspense of solving this case. Chizmar did an incredible job of making me feel like I knew everything about this small town and like I'd grown up there alongside him. But he also did a great job keeping me on the edge of my seat, wondering what was going to happen next, and when there was going to be a big break in the case.
Overall, this was a wild ride. It was terrifyingly realistic (especially since I live in the same state as this book). Chizmar clearly knows how to write a good story and I think any fan of horror will like this one. But I think it will also appeal to fans of true crime and mystery/thriller lovers.
Keep on reading lovelies, Amanda.