Summary:
When Andra wakes up, she's drowning.
Not only that, but she's in a hot, dirty cave, it's the year 3102, and everyone keeps calling her Goddess. When Andra went into a cryonic sleep for a trip across the galaxy, she expected to wake up in a hundred years, not a thousand. Worst of all, the rest of the colonists–including her family and friends–are dead. They died centuries ago, and for some reason, their descendants think Andra's a deity. She knows she's nothing special, but she'll play along if it means she can figure out why she was left in stasis and how to get back to Earth.
Zhade, the exiled bastard prince of Eerensed, has other plans. Four years ago, the sleeping Goddess's glass coffin disappeared from the palace, and Zhade devoted himself to finding it. Now he's hoping the Goddess will be the key to taking his rightful place on the throne–if he can get her to play her part, that is. Because if his people realize she doesn't actually have the power to save their dying planet, they'll kill her.
With a vicious monarch on the throne and a city tearing apart at the seams, Zhade and Andra might never be able to unlock the mystery of her fate, let alone find a way to unseat the king, especially since Zhade hasn't exactly been forthcoming with Andra. And a thousand years from home, is there any way of knowing that Earth is better than the planet she's woken to?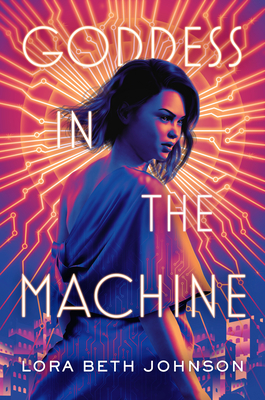 Review:
Oh man, I'm so glad I impulsively bought this book. Goddess in the Machine follows main characters Andra and Zhade. Zhade is a prince of the world that Andra has awoken on. Andra is the third goddess. She's been frozen in a cryogenic pod for 1,000 years. Except, it was supposed to only be 100 years. So, while Zhade is trying to use the goddess for his own ends, Andra is trying to figure out what the hell went wrong and what to do next.
This book was a wild ride. The story goes all over, but not in a way that made it seem like there was too much going on. There absolutely was a lot going on, but it was balanced really well and made sense for the story. I think the pacing of the story was well done as well. The author lets us get our bearings as we get to know the world and the characters and then incrementally turns things up with a well-placed twist here and there. I think the story was incredibly well written.
The characters were really what made the book though. Andra is the daughter that never made the cut. She was always the disappointment of her family. And she's still dealing with these feelings. So, she's not the most confident of main characters, but honestly, she's doing the best she can and that's actually pretty damn good. I loved following her growth and progression and the way the story ended! Oh, my goodness, I am going to start the second book immediately after finishing this review. Zhade was not hard to love. He was funny and charming. But also, the guy that you know you can't trust for anything, but you can't help but trust him anyway eventually being completely unsurprised when he betrays you. I think his plan was so dumb, but I am incredibly excited to see where it leads.
Overall, I loved this book. There were twists and turns that I didn't see coming at all. A few that had my jaw-dropping. The story was well-paced, engaging, and kept me interested the entire time. The characters were, mostly, easy to root for and I can't wait to see how they develop further in the sequel.
Keep on reading lovelies, Amanda.