Summary:
Spensa's life as a Defiant Defense Force pilot has been far from ordinary. She proved herself one of the best starfighters in the human enclave of Detritus and she saved her people from extermination at the hands of the Krell—the enigmatic alien species that has been holding them captive for decades. What's more, she traveled light-years from home as an undercover spy to infiltrate the Superiority, where she learned of the galaxy beyond her small, desolate planet home.
Now, the Superiority—the governing galactic alliance bent on dominating all human life—has started a galaxy-wide war. And Spensa's seen the weapons they plan to use to end it: the Delvers. Ancient, mysterious alien forces that can wipe out entire planetary systems in an instant. Spensa knows that no matter how many pilots the DDF has, there is no defeating this predator.
Except that Spensa is Cytonic. She faced down a Delver and saw something eerily familiar about it. And maybe, if she's able to figure out what she is, she could be more than just another pilot in this unfolding war. She could save the galaxy.
The only way she can discover what she really is, though, is to leave behind all she knows and enter the Nowhere. A place from which few ever return.
To have courage means facing fear. And this mission is terrifying.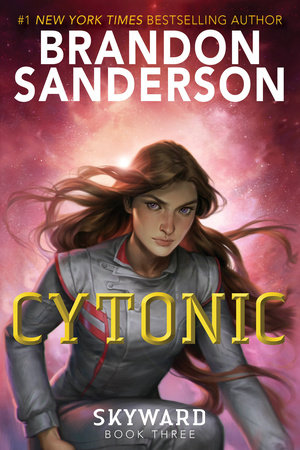 Review:
Cytonic is the third installment in the Skyward series. So, I won't go into too much detail with the summary considering that there would be major spoilers for the first two books.
We're once again following Spensa, who sort of disappeared at the end of the Starsight. We follow her to where she disappeared and in this place, we discover lots of secrets. Considering this is the third book in the series, it felt like it was mostly a build-up for the fourth and final book. While we did get to see Spensa reappear, and we got to see some familiar faces while she was disappeared, it felt like this book was a fact-finding mission all to work toward the final whatever it may be in the final book. I'm certainly not upset about that, but I still missed the crew from the first book being all together. Spensa is mainly on her own, aside from M-Bot (who I still love with my whole heart even though he was mildly annoying in this book), while she's on her mission. I definitely think there was so much character growth for her in this story because of the things she experienced. Part of that is also absolutely because she's on this particular mission by herself. She learns more about her cytonic abilities as well as details about the enemy, but most of all, she really dives deep at times and learns more about who she is and what kind of person she wants to be.
Overall, this was another stellar installment of this series. I love Spensa and M-Bot. I love Doomslug. I liked the new characters well enough, but like I said above, I miss the original Skyward Flightcrew being all together. Even though this book felt like it was all leading up to the big resolution that has to be coming to the conclusion, I really appreciated the way this story took the time to develop Spensa on her own as a character. I think because her mission was solo, it really allowed for some focused character development. But I'm incredibly eager to see the team back together again in book four.
Keep on reading lovelies, Amanda.