Summary:
England, 1865 : As one of England's most notorious newspaper columnists, Lady Katherine Bascomb believes knowledge is power. And she's determined to inform and educate the ladies of London on the nefarious-and deadly-criminals who are preying on the fairer sex. When her reporting leads to the arrest of a notorious killer, however, Katherine flees to a country house party to escape her newfound notoriety-only to witness a murder on her very first night. And when the lead detective accuses Katherine of inflaming-rather than informing-the public with her column, she vows to prove him wrong.
Detective Inspector Andrew Eversham's refusal to compromise his investigations nearly cost him his own career, and he blames Katherine. To avoid bad publicity, his superiors are pressuring him to solve cases quickly rather than correctly. When he discovers she's the key witness in a new crime, he's determined to prevent the beautiful widow from once again wreaking havoc on his case. Yet as Katherine proves surprisingly insightful and Andrew impresses Katherine with his lethal competency, both are forced to admit the fire between them is more flirtatious than furious. But to explore the passion between them, they'll need to catch a killer.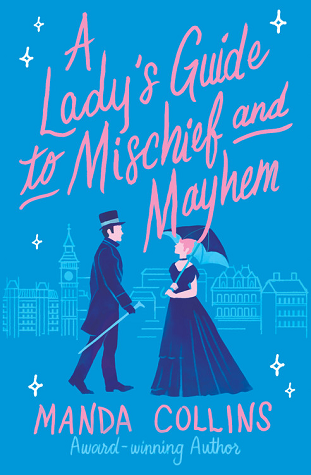 Review:
A Lady's Guide to Mischief and Mayhem follows Lady Katherine Bascomb, also known as Kate, who is a widow that owns and writes for a newspaper. When she and her new friend Caro, get involved in a murder investigation that's been plaguing London by writing about a witness that wasn't interviewed by the police, suddenly the police have found the killer. But what if they've found the wrong man?
I really liked Kate as our heroine. Often in historical romance, we're reading about girls that are just debuting for their season in London and the whirlwind romance that follows. But Kate is a widow, so she has more freedoms than the typical heroine of the genre. She's also headstrong and refuses to be controlled by any man again.
Enter our love interest, Detective Inspector Andrew Eversham. He's just been demoted after Kate's article proves that he's not followed up on all the parts of the investigation that he's delegated to others. But when another murder occurs that is similar to the ones that have supposedly been committed by someone that's been arrested, Eversham's given another chance and sent to investigate further.
So, there were a few things I liked about this book and a few that I didn't. I liked what the author was trying to do with combining a mystery/thriller with historical romance. I really loved the murder mystery feel of the story. It set a really good pace for the story and wanting to know who the murderer was really kept me engaged in the story. But, at the same time, I think because of the murder investigation aspects of the story, I wasn't able to find myself fully invested in the romance. There was so much build-up and detail about the investigation and backstory about Kate that the romance felt like it was sort of jammed into the story. Even though it was obvious that Kate and Eversham were going to be the romantic focus of the story, when things finally started happening between them it felt sudden and almost out of place. I really wanted to like them together, and I did, but not as much as I think I could have. I think they complimented each other as a couple and they had great chemistry. But the mystery and the murder investigation took up so much of the story that the romance aspect almost felt like it didn't belong.
Overall, this was a fast-paced story. I liked all of the characters and I did enjoy the bits and pieces that were very obviously left to hint about the next book (and couple) in the series. I think the murder mystery aspect of the story was really well done. I didn't guess who the killer was, and I was very interested in the twists and reveals. I just wish that I had liked the romance more. I liked it, but I don't feel strongly about it one way or the other. It almost felt like the romance was an afterthought in the story. I think I'll continue the series, but I'll probably borrow the next one from my library instead of buying it.
Keep on reading lovelies, Amanda.