Summary:
A hilarious and vulnerable coming-of-age story about the thrilling new experience–and missteps–of a girl's freshman year of college
Some students enter their freshman year of college knowing exactly what they want to do with their lives. Elliot McHugh is not one of those people. But picking a major is the last thing on Elliot's mind when she's too busy experiencing all that college has to offer–from dancing all night at off-campus parties, to testing her RA Rose's patience, to making new friends, to having the best sex one can have on a twin-sized dorm room bed. But she may not be ready for the fallout when reality hits. When the sex she's having isn't that great. When finals creep up and smack her right in the face. Or when her roommate's boyfriend turns out to be the biggest a-hole. Elliot may make epic mistakes, but if she's honest with herself (and with you, dear reader), she may just find the person she wants to be. And maybe even fall in love in the process . . . Well, maybe.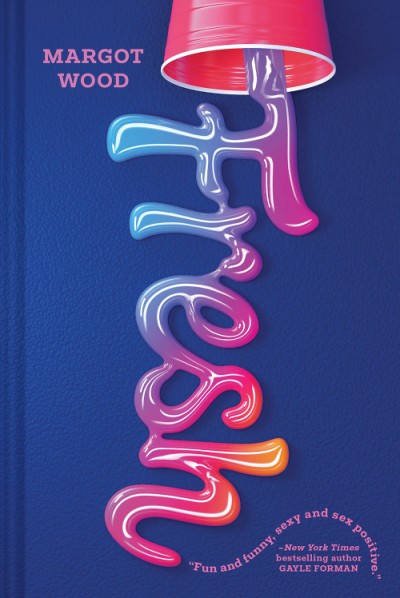 Review:
I picked this one up at the Barnes and Noble 50% off hardcovers book sale under the influence of my friend Kelly. She recommended this for the 12 challenge that was going around Instagram and Twitter at the start of the year. All she said was it's about a bisexual girl in her first year of college and I was immediately sold. Plus, when I saw it in the bookstore that book cover really just shines. It's so simple and yet so stunning at the same time. I already can't wait to take pictures of it.
Fresh follows Elliot, who is starting her first year of college. She's from Ohio, but she's going to Emerson College in Boston. As someone that grew up Boston adjacent, there are so many excellent Boston and Massachusetts references that had me laughing out loud. The thing about this book is that it doesn't take itself seriously. It's told in first-person perspective and Elliot "talks" directly to the reader at times. I loved the way this story was told. I think it was incredibly engaging to be following Elliot as if she was sitting next to me, telling me about her experiences. Now, Elliot doesn't always make the best choices. She's incredibly flawed and I absolutely loved that about her. She's bisexual and confident in her sexuality. The first half of the book is mostly (to use Elliot's phrasing) Elliot being "horny on main." The second half is Elliot taking the lessons she learned from her first semester of college and making better choices. She learns from her mistakes and doesn't repeat them. I think that's a big reason that she was a character I felt I could be invested in. She doesn't just do stupid things over and over. She learns and makes a point to do better.
I absolutely loved all of the side characters, too. Lucy and Micah were excellent friends. I also loved Elliot's RA, Rose. I think they made this story even better. Elliot really had amazing friends to support her and to tell her to pull her head out of her ass when she needed it.
Overall, I loved this book. I said earlier that it doesn't take itself seriously. I think the author did a wonderful job of balancing that feeling while also covering some serious topics. There are conversations of sexual assault and slut-shaming. But it's also a really sex-positive book. I feel like any words that I write cannot do this story justice. I will be recommending this book in the future very often.
Keep on reading lovelies, Amanda.