Summary:
Sebin, a young tiger spirit from the Juhwang Clan, wants nothing more than to join the Thousand World Space Forces and, like their Uncle Hwan, captain a battle cruiser someday. But when Sebin's acceptance letter finally arrives, it's accompanied by the shocking news that Hwan has been declared a traitor. Apparently, the captain abandoned his duty to steal a magical artifact, the Dragon Pearl, and his whereabouts are still unknown. Sebin hopes to help clear their hero's name and restore honour to the clan.
Nothing goes according to plan, however. As soon as Sebin arrives for orientation, they are met by a special investigator named Yi and his assistant, a girl named Min. Yi informs Sebin that they must immediately report to the ship Haetae and await further instructions. Sebin finds this highly unusual, but soon all protocol is forgotten when there's an explosion on the ship, the crew is knocked out, and the communication system goes down. It's up to Sebin, three other cadets, and Yi and Min to determine who is sabotaging the battlecruiser. When Sebin is suddenly accused of collaborating with the enemy, the cadet realizes that Min is the most dangerous foe of all…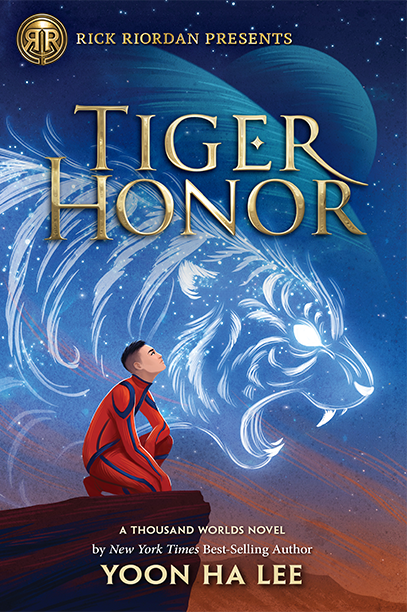 Review:
I've absolutely loved everything I've read that's come from the Rick Riordan Presents publishing imprint. So, I was incredibly excited when I got the approval email from NetGalley (thank you!) for Tiger Honor.
This is the sequel to Dragon Pearl, which I read in 2020 and really enjoyed. Sadly, I didn't enjoy this one nearly as much. I think a part of that is because it's been so long since I've read Dragon Pearl that I didn't recognize the characters from that book in Tiger Honor until almost halfway through the story. I think I might have enjoyed it more had I gone into the story knowing the connection between Sebin and their family and Min from Dragon Pearl.
This story follows Sebin, who is non-binary and uses they/them pronouns, just before they have been accepted into the Thousand World Space Forces. They dream of following in their Uncle's footsteps and becoming a ship's captain. But on their very first day as a cadet, things go completely wild and the ship they are on comes under attack. The rest of the story is what follows and how Sebin handles this.
My biggest issue with this book was that I had no idea what was going on until more than halfway through the book. Sebin is out onto a ship and they rightfully see all sorts of suspicious things before even getting onto the ship. So, we're left with a sense of something not being right, but what that something is isn't shared until a decent way through the story. There's so much happening in the first half of the story that it feels fast-paced, but I felt like I couldn't enjoy all the action because I had no clue what was happening. I'm not sure if I would have felt differently had the first book been fresher in my mind.
Now, there were still many things that I liked about this book. I think the fact that this story follows a non-binary main character is absolutely amazing. I also absolutely loved all of the folklore and mythology that was included in the story. I think there was less of it than there was with Dragon Pearl, but I really enjoyed leaving about Sebin's family and the traditions of Tiger shifters.
Overall, this was still an enjoyable and exciting story that I think will be well received. I really liked Sebin. They were such a different perspective from Min in the first book. I really think they bought something new to the story. And even though I felt like I didn't know what was happening half the time, I think this was still a really engaging story and I will absolutely be recommending it in the future.
Keep on reading lovelies, Amanda.