Summary:
The Unwilling is the story of Judah, a foundling born with a special gift and raised inside Highfall castle along with Gavin, the son and heir to Lord Elban's vast empire. Judah and Gavin share an unnatural bond that is both the key to her survival… and possibly her undoing.
As Gavin is groomed for his future role, Judah comes to realize that she has no real position within the kingdom, in fact, no hope at all of ever traveling beyond its castle walls. Elban – a lord as mighty as he is cruel – has his own plans for her, for all of them. She is a mere pawn to him, and he will stop at nothing to get what he wants.
But outside the walls, in the starving, desperate city, a magus, a healer with his own secret power unlike anything Highfall has seen in years, is newly arrived from the provinces. He, too, has plans for the empire, and at the heart of those plans lies Judah… The girl who started life with no name and no history will soon uncover more to her story than she ever imagined.
An epic tale of greed and ambition, cruelty and love, this deeply immersive novel is about bowing to traditions and burning them down.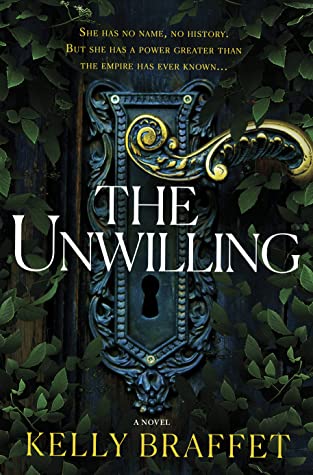 Review:
I picked up The Unwilling because I requested the second book in NetGalley, not knowing that it was a sequel. So, I had to read this first book once I was approved for its sequel. I listened to the audiobook and I think the narrator did an excellent job telling the story.
The story follows Judah, Gavin, Elly, and Theron. Judah is an orphan that has a magical connection to Gavin, the heir of Highfall castle. Whatever happens to Gavin also happens to Judah and the same is reversed. This is basically what Judah's life is all about. Her life is determined by Gavin. The two are friends, but they're often used against one another. While I liked these four friends, I felt like little to nothing actually happened in the story. We learn so much about the world, the daily lives of these four, and all that's wrong within and outside of Highfall castle. Things pick up a bit toward the end of the story, but we're left wanting much more. I'm excited to read the second book to see if it had this same issue or if this book was just mostly build up and set up for the second book.
Overall, I think this book was interesting. But it was very character-focused with minimal plot. There wasn't much that actually happened until the final third of the book. We spend so much time getting to know the characters and the world that the story felt incredibly slow. I don't know that I would have gotten through it had I not been listening to the audiobook. I'm glad that I read it so that I can read the NetGalley arc of the sequel.