Summary:
Going toe-to-toe with a brooding Scotsman is rather bold for a respectable suffragist, but when he happens to be one's unexpected husband, what else is an unwilling bride to do?
London banking heiress Hattie Greenfield wanted just three things in life:
2. A noble cause.
3. Marriage to a young lord who puts the gentle in gentleman.
Why then does this Oxford scholar find herself at the altar with the darkly attractive financier Lucian Blackstone, whose murky past and ruthless business practices strike fear in the hearts of Britain's peerage? Trust Hattie to take an invigorating little adventure too far. Now she's stuck with a churlish Scot who just might be the end of her ambitions….
When the daughter of his business rival all but falls into his lap, Lucian sees opportunity. As a self-made man, he has vast wealth but holds little power, and Hattie might be the key to finally setting long-harbored political plans in motion. Driven by an old revenge, he has no room for his new wife's apprehensions or romantic notions, bewitching as he finds her.
But a sudden journey to Scotland paints everything in a different light. Hattie slowly sees the real Lucian and realizes she could win everything–as long as she is prepared to lose her heart.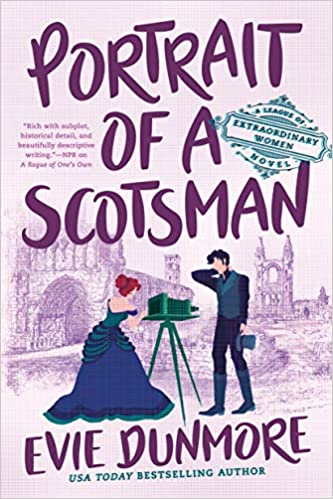 Review:
Portrait of a Scotsman follows Hattie who is the daughter of a wealthy banker. She's also an artist and a part of the newly allowed females attending Oxford. Hattie has always been the "lovely" sister because she had what we now know as dyslexia and perhaps some ADHD as well. But these aren't names that exist yet in the regency romance time period, so Hattie is just thought of as not as smart as her siblings. Anyway, she ends up finding herself in a compromising position with Lucian Blackstone. Obviously, the pair must now get married.
I really enjoyed this book. I liked the romance between Lucian and Hattie. I liked that we got to see a bit from Lucian side as well as Hattie's. I thought it was really fun for Hattie to be taken out of town and to a place where life is different from what she is used to. I thought it really gave space to show how smart and kind Hattie is. But it also let us see some of her insecurities come to life too.
I liked Lucian too. He's explained to be this heartless man. But we learn that he does everything for a reason. It was a genuine joy to see him realize that he'd fallen in love with Hattie.
I also thought this book did a really good thing with showing via these characters (mostly Hattie) how women of means were kept purposefully ignorant about sex and their bodies but also expected to completely overcome that on their wedding night. The taboo that women's bodies have been made into is still relevant to today and I liked how that was shown in the story.
Overall, another book in this series that I really enjoyed. I will absolutely be continuing any books that are to be published. I liked the romance. The sex scenes were pretty good. We got a main character with a disability that was still shown to be smart and strong and kind. I would definitely recommend this one.
Keep on reading lovelies, Amanda.