Hello, lovelies! Today I wanted to share with you some authors that published their debut novels in 2021 that I absolutely loved and have been raving about since I read them. A few of these are authors that debuted in a new age range or genre, but I still wanted to highlight their work because I really loved it. Let's go!
Middle Grade
Pahua and the Soul Stealer by Lori M. Lee
"Pahua Moua has a bit of a reputation for being a weirdo. A lonely eleven-year-old Hmong girl with the unique ability to see spirits, she spends her summer days babysitting her little brother and playing with her best friend, a cat spirit no one else can see. One day Pahua accidentally untethers an angry spirit from the haunted bridge in her neighborhood–whoops. When her brother suddenly falls sick and can't be awoken, Pahua fears that the bridge spirit has stolen his soul. She returns to the scene of the crime with her aunt's old shaman tools, hoping to confront the spirit and demand her brother's return. Instead, she summons a demon. Thankfully, a warrior shaman with a bit of an attitude problem shows up at the last minute and saves her butt. With the help of this guide, Pahua will have to find her way through the spirit worlds and rescue her brother's soul before it's too late. Little does she know she'll have her own discoveries to make along the way. . . . With its unforgettable characters, unique nature-based magic system, breathtaking twists and reveals, and climactic boss battle, this story based on Hmong oral tradition offers everything a fantasy lover could want."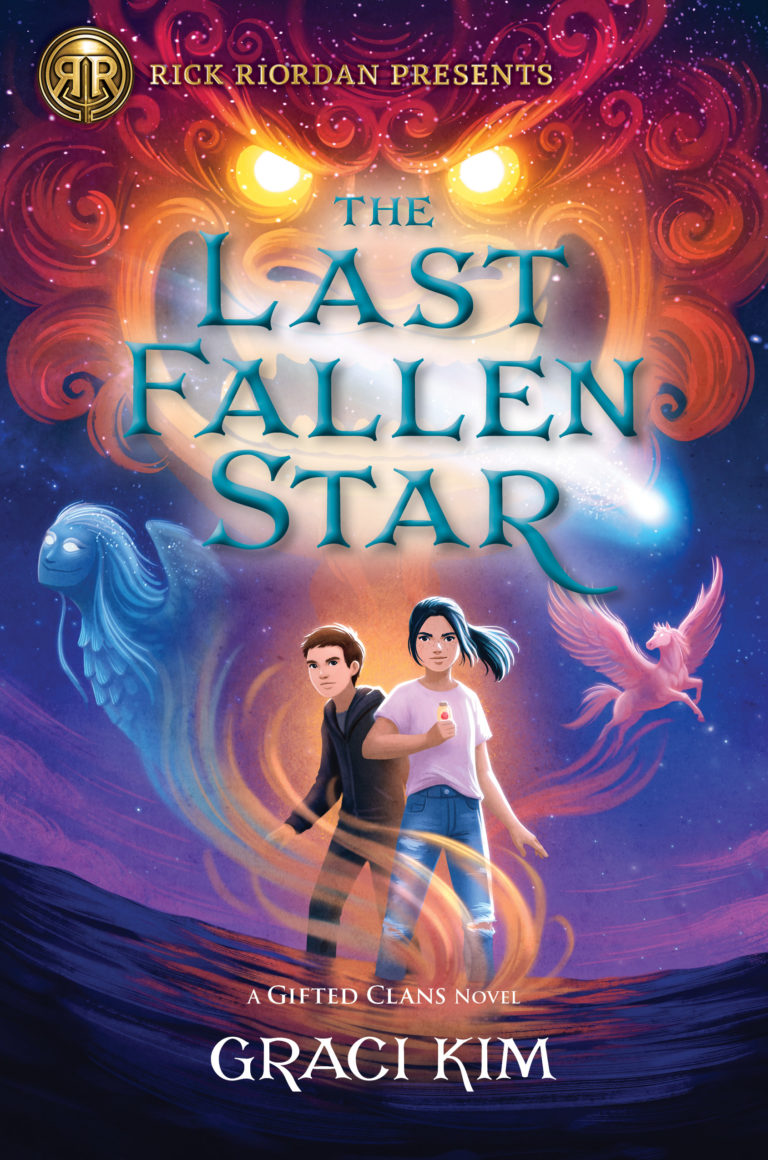 The Last Fallen Star by Graci Kim
"Riley Oh can't wait to see her sister get initiated into the Gom clan—a powerful lineage of Korean healing witches their family has belonged to for generations. Her sister, Hattie, will earn her Gi bracelet and finally be able to cast spells without adult supervision. Although Riley is desperate to follow in her sister's footsteps when she herself turns thirteen, she's a saram—a person without magic. Riley was adopted, and despite having memorized every healing spell she's ever heard, she often feels like the odd one out in her family and the gifted community. Then Hattie gets an idea: what if the two of them could cast a spell that would allow Riley to share Hattie's magic? Their sleuthing reveals a promising incantation in the family's old spellbook, and the sisters decide to perform it at Hattie's initiation ceremony. If it works, no one will ever treat Riley as an outsider again. It's a perfect plan! Until it isn't. When the sisters attempt to violate the laws of the Godrealm, Hattie's life ends up hanging in the balance, and to save her Riley has to fulfill an impossible task: find the last fallen star. But what even is the star, and how can she find it? As Riley embarks on her search, she finds herself meeting fantastic creatures, and collaborating with her worst enemies. And when she uncovers secrets that challenge everything she has been taught to believe, Riley must decide what it means to be a witch, what it means to be family, and what it really means to belong."
Young Adult
The Nature of Witches by Rachel Griffin
"For centuries, witches have maintained the climate, their power from the sun peaking in the season of their birth. But now their control is faltering as the atmosphere becomes more erratic. All hope lies with Clara, an Everwitch whose rare magic is tied to every season.
In Autumn, Clara wants nothing to do with her power. It's wild and volatile, and the price of her magic–losing the ones she loves–is too high, despite the need to control the increasingly dangerous weather.
In Winter, the world is on the precipice of disaster. Fires burn, storms rage, and Clara accepts that she's the only one who can make a difference.
In Spring, she falls for Sang, the witch training her. As her magic grows, so do her feelings, until she's terrified Sang will be the next one she loses.
In Summer, Clara must choose between her power and her happiness, her duty and the people she loves…before she loses Sang, her magic, and thrusts the world into chaos."
Iron Widow by Xiran Jay Zhao
"The boys of Huaxia dream of pairing up with girls to pilot Chrysalises, giant transforming robots that can battle the mecha aliens that lurk beyond the Great Wall. It doesn't matter that the girls often die from the mental strain. When 18-year-old Zetian offers herself up as a concubine-pilot, it's to assassinate the ace male pilot responsible for her sister's death. But she gets her vengeance in a way nobody expected—she kills him through the psychic link between pilots and emerges from the cockpit unscathed. She is labeled an Iron Widow, a much-feared and much-silenced kind of female pilot who can sacrifice boys to power up Chrysalises instead.​ To tame her unnerving yet invaluable mental strength, she is paired up with Li Shimin, the strongest and most controversial male pilot in Huaxia​. But now that Zetian has had a taste of power, she will not cower so easily. She will miss no opportunity to leverage their combined might and infamy to survive attempt after attempt on her life, until she can figure out exactly why the pilot system works in its misogynist way—and stop more girls from being sacrificed."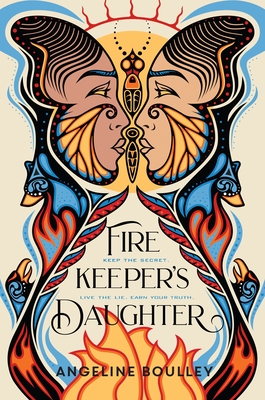 Firekeeper's Daughter by Angeline Boulley
"As a biracial, unenrolled tribal member and the product of a scandal, eighteen-year-old Daunis Fontaine has never quite fit in, both in her hometown and on the nearby Ojibwe reservation. Daunis dreams of studying medicine, but when her family is struck by tragedy, she puts her future on hold to care for her fragile mother.The only bright spot is meeting Jamie, the charming new recruit on her brother Levi's hockey team. Yet even as Daunis falls for Jamie, certain details don't add up and she senses the dashing hockey star is hiding something. Everything comes to light when Daunis witnesses a shocking murder, thrusting her into the heart of a criminal investigation.Reluctantly, Daunis agrees to go undercover, but secretly pursues her own investigation, tracking down the criminals with her knowledge of chemistry and Ojibwe traditional medicine. But the deceptions–and deaths–keep piling up and soon the threat strikes too close to home.Now, Daunis must learn what it means to be a strong Anishinaabe kwe (Ojibwe woman) and how far she'll go to protect her community, even if it tears apart the only world she's ever known."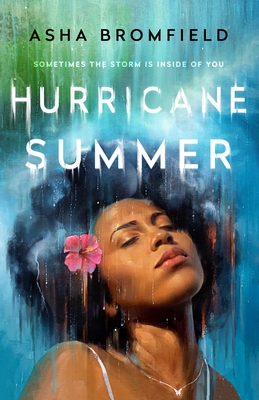 Hurricane Summer by Asha Bromfield
"Tilla has spent her entire life trying to make her father love her. But, like clockwork, every six months since she was a girl, he's left their home in Canada for his true home, the island of Jamaica. When she's sent there to live with him for the summer, there's a big part of Tilla that dreads having to deal with this taciturn and mysterious man, yet she longs to discover what life in Jamaica has always held for him. What is it about this place that is more important than being home with their family? What could possibly mean more to him than her? When she gets to Jamaica, the pull of the island is immediately apparent, but so too are the cracks in the family she hasn't seen in years. In an unexpected turn of events, Tilla is forced to face a storm that threatens to unravel her own life as she learns about the dark secrets that lie beyond the veil of paradise, just as an actual storm, Hurricane Gustav, threatens the lives of those she loves.Hurricane Summer is a powerful coming of age story that deals with colorism, classism, young love, sexism, and explores how the father-daughter relationship can shape the course of a young woman's life. At its core, this debut takes the reader on a riveting journey that explores what it means to discover your own voice, in the center of complete destruction."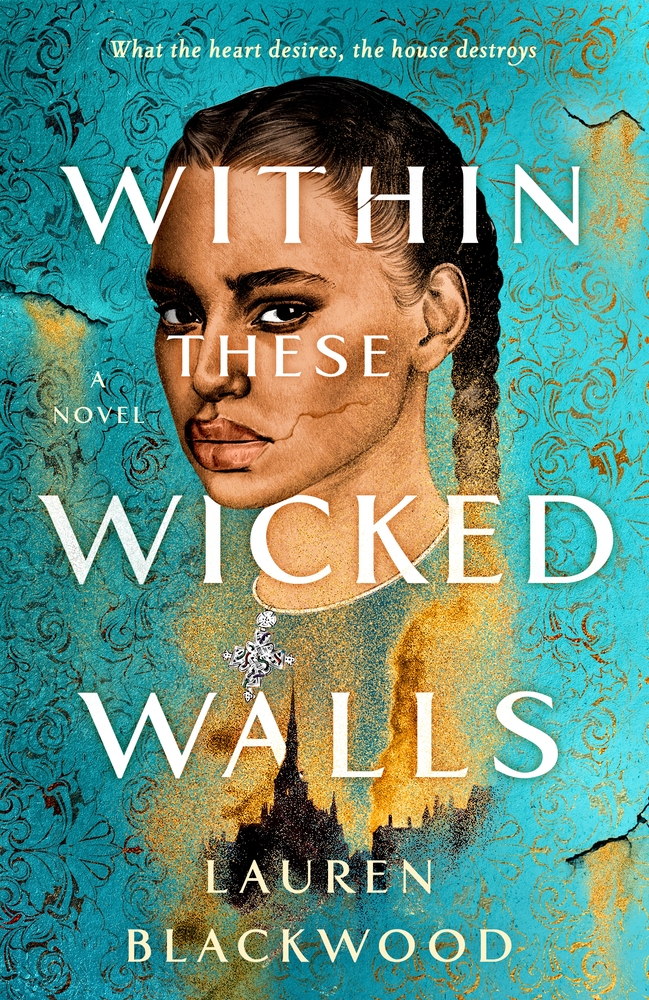 Within These Wicked Walls by Lauren Blackwood
"What the heart desires, the house destroys…
Andromeda is a debtera—an exorcist hired to cleanse households of the Evil Eye. When a handsome young heir named Magnus Rochester reaches out to hire her, Andromeda quickly realizes this is a job like no other, with horrifying manifestations at every turn, and that Magnus is hiding far more than she has been trained for. Death is the most likely outcome if she stays, but leaving Magnus to live out his curse alone isn't an option. Evil may roam the castle's halls, but so does a burning desire."
The Valley and the Flood by Rebecca Mahoney
"Rose Colter is almost home, but she can't go back there yet. When her car breaks down in the Nevada desert, the silence of the night is broken by a radio broadcast of a voicemail message from her best friend, Gaby. A message Rose has listened to countless times over the past year. The last one Gaby left before she died. So Rose follows the lights from the closest radio tower to Lotus Valley, a small town where prophets are a dime a dozen, secrets lurk in every shadow, and the diner pie is legendary. And according to Cassie Cyrene, the town's third most accurate prophet, they've been waiting for her. Because Rose's arrival is part of a looming prophecy, one that says a flood will destroy Lotus Valley in just three days' time. Rose believes if the prophecy comes true then it will confirm her worst fear–the PTSD she was diagnosed with after Gaby's death has changed her in ways she can't face. So with help from new friends, Rose sets out to stop the flood, but her connection to it, and to this strange little town, runs deeper than she could've imagined."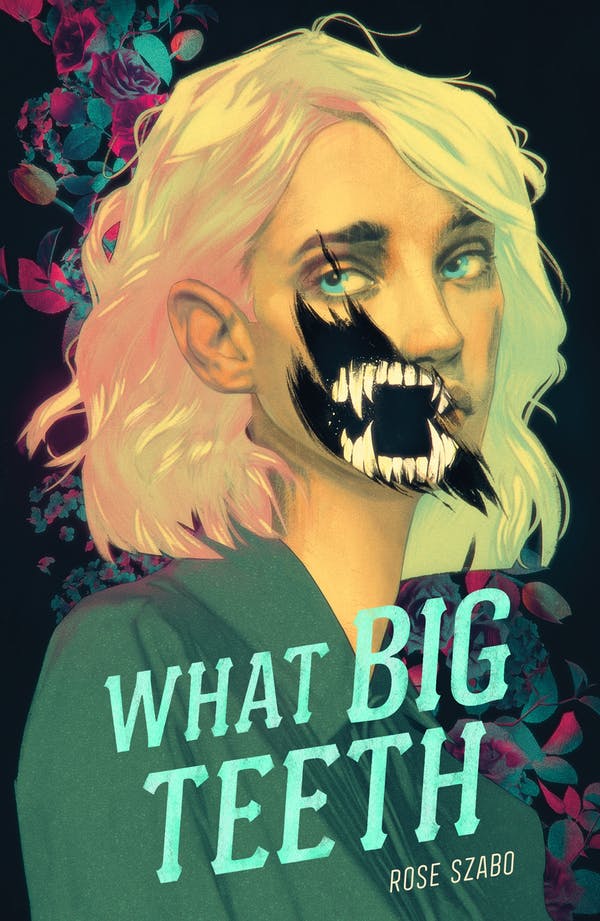 What Big Teeth by Rose Szabo
"Eleanor Zarrin has been estranged from her wild family for years. When she flees boarding school after a horrifying incident, she goes to the only place she thinks is safe: the home she left behind. But when she gets there, she struggles to fit in with her monstrous relatives, who prowl the woods around the family estate and read fortunes in the guts of birds. Eleanor finds herself desperately trying to hold the family together—in order to save them all, Eleanor must learn to embrace her family of monsters and tame the darkness inside her.
Rose Szabo's thrilling debut is a dark fantasy novel about a teen girl who returns home to her strange, wild family after years of estrangement, perfect for fans of Wilder Girls. This exquisitely terrifying and beautiful tale will sink its teeth into you and never let go."
Adult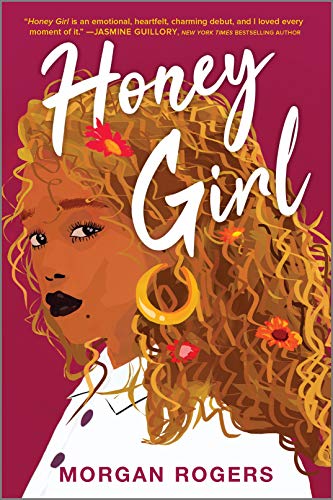 Honey Girl by Morgan Rogers
"With her newly completed PhD in astronomy in hand, twenty-eight-year-old Grace Porter goes on a girls' trip to Vegas to celebrate. She's a straight A, work-through-the-summer certified high achiever. She is not the kind of person who goes to Vegas and gets drunkenly married to a woman whose name she doesn't know…until she does exactly that. This one moment of departure from her stern ex-military father's plans for her life has Grace wondering why she doesn't feel more fulfilled from completing her degree. Staggering under the weight of her parent's expectations, a struggling job market and feelings of burnout, Grace flees her home in Portland for a summer in New York with the wife she barely knows. In New York, she's able to ignore all the constant questions about her future plans and falls hard for her creative and beautiful wife, Yuki Yamamoto. But when reality comes crashing in, Grace must face what she's been running from all along—the fears that make us human, the family scars that need to heal and the longing for connection, especially when navigating the messiness of adulthood."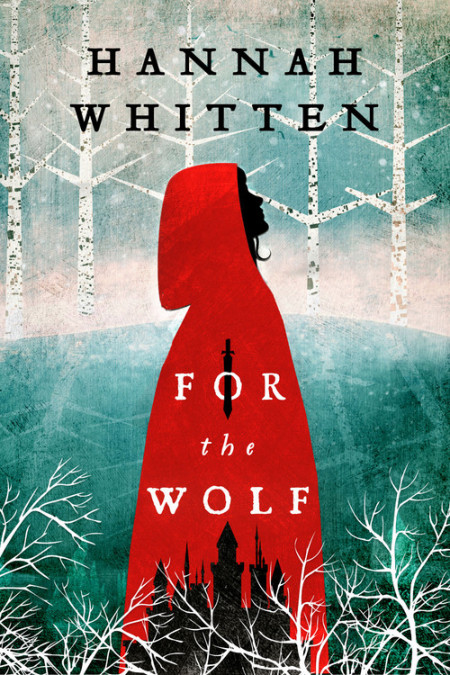 For the Wolf by Hannah Whitten
"The first daughter is for the Throne. The second daughter is for the Wolf.
For fans of Uprooted and The Bear and the Nightingale comes a dark, sweeping debut fantasy novel about a young woman who must be sacrificed to the legendary Wolf of the Wood to save her kingdom. But not all legends are true, and the Wolf isn't the only danger lurking in the Wilderwood. As the only Second Daughter born in centuries, Red has one purpose-to be sacrificed to the Wolf in the Wood in the hope he'll return the world's captured gods. Red is almost relieved to go. Plagued by a dangerous power she can't control, at least she knows that in the Wilderwood, she can't hurt those she loves. Again. But the legends lie. The Wolf is a man, not a monster. Her magic is a calling, not a curse. And if she doesn't learn how to use it, the monsters the gods have become will swallow the Wilderwood-and her world-whole."
These are some of the 2021 debut novels that I absolutely loved. Many of these will be making appearances on my 2021 favorite books lists that I will be sharing in January. Have you read any of these debuts? Did you love any of these books too?
Keep on reading lovelies, Amanda.