Summary:
Raised to be a warrior, seventeen-year-old Eelyn fights alongside her Aska clansmen in an ancient, rivalry against the Riki clan. Her life is brutal but simple: fight and survive. Until the day she sees the impossible on the battlefield–her brother, fighting with the enemy–the brother she watched die five years ago.
Faced with her brother's betrayal, she must survive the winter in the mountains with the Riki, in a village where every neighbor is an enemy, every battle scar possibly one she delivered. But when the Riki village is raided by a ruthless clan thought to be a legend, Eelyn is even more desperate to get back to her beloved family.
She is given no choice but to trust Fiske, her brother's friend, who sees her as a threat. They must do the impossible: unite the clans to fight together, or risk being slaughtered one by one. Driven by a love for her clan and her growing love for Fiske, Eelyn must confront her own definition of loyalty and family while daring to put her faith in the people she's spent her life hating.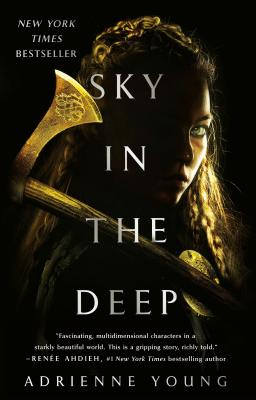 Review:
I have finally managed to pick up Sky in the Deep. I can see why so many people love this book. It has all the popular tropes but most specifically, it's enemies to lovers.
We follow Eelyn during fighting season. She thinks she's just seen her brother, except that he's been dead for five years. But then she sees him again the next day and this time she follows him. That choice leads to her being taken by the Riki, the enemy clan. But once she's been brought to a Riki village in the mountains, she learns that her brother didn't die five years ago. She plans to escape and make her way home while grappling with the emotions of her brother's betrayal. But then Riki villages are being attacked, and not by the Aska. The only chance for survival might be for the two clans to finally put aside their feud and defeat this new enemy together.
I really enjoyed this book. It starts off really exciting and right in the thick of things. Eelyn is in the middle of fighting in the opening pages and she's taken by her brother and Fiske only a few chapters into the story. I think this made it a little harder to connect with Eelyn and to empathize with her when she's feeling the betrayal of her brother. But she's a fierce and fiery main character so it was hard not to like her. I could totally see where things were going between her and Fiske right from the start but I did enjoy the journey of their romance.
I think the world was just as compelling as the characters. We really only learn about the Aska and the Riki as well as a very small bit about the third clan. I thought their gods were interesting and I would have liked to learn more about all of the gods. It's a story that totally has Viking feels to it, so I wanted to know if the clans believed in all the gods but only served one? How did it all work between the different clans? I also wanted to know more about the history between the Riki and the Aska. Why had they been feuding for so long? Was it just because the two clans served different gods?
Overall, I had a good time reading this one. I think the world was interesting and definitely left me wanting to know more. I really grew to love the characters and their complex relationships. I ended the story being very invested in Fiske and Eelyn's romance, for sure. Overall, I'm glad I finally picked up this story.
Keep on reading lovelies, Amanda.