Hello, lovelies! Today I'm here with another TBR list, is anyone surprised? Well, this one is a fun one and I have a huge list because there are a ton of prompts. There are four bingo boards to choose from and I decided to choose the team for Family Affair. I love all the movies on this list and I loved the prompts with them too. If you're interested in more details about the readathon the whole information thread is here. I'm going to leave the bingo board I'm hoping to complete here in my post, but there are three others to choose from.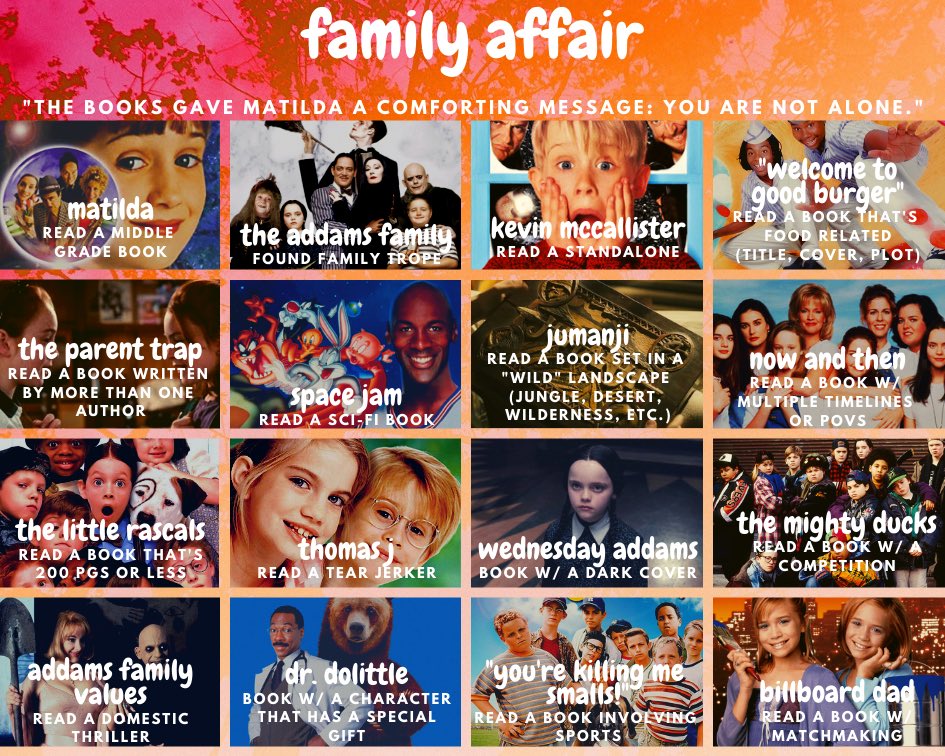 Matilda – Read a middle-grade book:
Sal and Gabi Fix the Universe by Carlos Hernandez
The Addams Family – Found family trope:
The Sword of Summer by Rick Riordan
Kevin  McCallister – Read a standalone:
Each of Us a Desert by Mark Oshiro
"Welcome to Good Burger" – Read a book that is related to food:
What I Like About You by Marisa Kanter
The Parent Trap – Read a book that is written by more than one  author:
Eve of Man by Giovanna & Tom Fletcher
Space Jam – Read a science fiction book:
The XY by Virginia Bergin
Jumanji – Read a book set in a "wild" landscape:
The Simple Wild by K.A. Tucker
Now and Then – Read a book with multiple timelines or points of view:
The Deck of Omens by Christine Lynn Herman
The Little Rascals – Read a book 200 pages or less:
To Be Taught, If Fortunate by Becky Chambers
Thomas J – Read a tear jerker:
Wild Blue Wonder by Carlie Sorosiak
Wednesday Addams – Book with a dark cover:
Where Dreams Descend by Janella Angeles
The Mighty Ducks – Read a book with a competition:
The Ballad of  Songbirds and Snakes by Suzanne Collins
Addams Family Values – Read a domestic thriller:
The Roanoke Girls by Amy Engel
Dr. Dolittle – Book with a character that has a special ability:
Darkfever by Karen Marie Moning
"You're Killing Me Smalls" – Read a book involving sports:
Lifestyles of Gods & Monsters by Emily Roberson (this is a huge stretch but it's the closest I've got)
Billboard Dad – Read a book with  matchmaking:
We Set the Dark on Fire by Tehlor Kay Mejia
I'm really excited for this readathon. It's going to be a ton of fun. I'm glad to have a huge TBR too because it gives me lots of options to pick up whatever I'm in the mood for and maybe I'll actually follow my TBR this time.
Keep on reading lovelies, Amanda.