GoodReads Summary:
In a world divided by meddlesome gods and treacherous oceans, only the Maarin possess the knowledge to cross the Endless Seas. But they have one mandate: East must never meet West.
A PIRATE WITH A WILL OF IRON
Teriana is the second mate of the Quincense and heir to the Maarin Triumvirate. Her people are born of the seas and the keepers of its secrets, but when her closest friend is forced into an unwanted betrothal, Teriana breaks her people's mandate so her friend might escape—a choice with devastating consequences.
A SOLDIER WITH A SECRET
Marcus is the commander of the Thirty-Seventh, the notorious legion that has led the Celendor Empire to conquer the entire East. The legion is his family, but even they don't know the truth he's been hiding since childhood. It's a secret he'll do anything to protect, no matter how much it costs him – and the world.
A DANGEROUS QUEST
When an Empire senator discovers the existence of the Dark Shores, he captures Teriana's crew and threatens to reveal Marcus's secret unless they sail in pursuit of conquest, forcing the two into an unlikely—and unwilling—alliance. They unite for the sake of their families, but both must decide how far they are willing to go, and how much they are willing to sacrifice.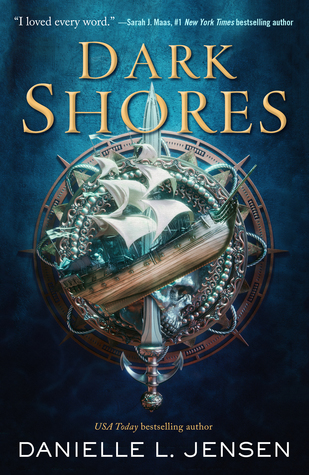 Review:
After seeing a friend of mine read this book and absolutely adore it, I was excited to read it too. I was not disappointed. I flew through this story because I was just enjoying it so much once I finally started reading it.
I adored the main character Teriana. She's sassy and unapologetic. She does what she needs to do to keep her loved ones safe, even if that means being forsaken by her gods. I loved how fierce and funny she was. I really enjoyed her as a character.
I also really enjoyed Marcus. He was such a good character. Everything about him is just a little morally grey. He wants to be good, may be good on the inside. He has the best intentions but will do anything to protect his secrets. I loved the found family aspect of the story. Marcus is the leader of the Thirty Seventh (essentially a part of the army) and they were trained and grew up together. They've been through the worst things in their lives together. I really enjoyed the comradery and seeing the men get to know Teriana.
I think seeing Teriana interact and win over the Thirty Seventh was probably my favorite parts of this book.
The world building was honestly incredible. It was seamlessly intertwined with the story. There was no info dumping and I really appreciated that. I thought the concept of this world was so fascinating and unique. I cannot wait to learn more about what's going to happen next.
I have no complaints about this book. I completely loved it. I loved the world, the characters, the writing. I just enjoyed the whole reading experience. If you're in search of a piratey fantasy, look no further.
Keep on reading lovelies, Amanda.