Summary:
Aurora Pavan comes from one of the oldest Stormling families in existence. Long ago, the ungifted pledged fealty and service to her family in exchange for safe haven, and a kingdom was carved out from the wildlands and sustained by magic capable of repelling the world's deadliest foes. As the sole heir of Pavan, Aurora's been groomed to be the perfect queen. She's intelligent and brave and honorable. But she's yet to show any trace of the magic she'll need to protect her people.
To keep her secret and save her crown, Aurora's mother arranges for her to marry a dark and brooding Stormling prince from another kingdom. At first, the prince seems like the perfect solution to all her problems. He'll guarantee her spot as the next queen and be the champion her people need to remain safe. But the more secrets Aurora uncovers about him, the more a future with him frightens her. When she dons a disguise and sneaks out of the palace one night to spy on him, she stumbles upon a black market dealing in the very thing she lacks—storm magic. And the people selling it? They're not Stormlings. They're storm hunters.
Legend says that her ancestors first gained their magic by facing a storm and stealing part of its essence. And when a handsome young storm hunter reveals he was born without magic, but possesses it now, Aurora realizes there's a third option for her future besides ruin or marriage.
She might not have magic now, but she can steal it if she's brave enough.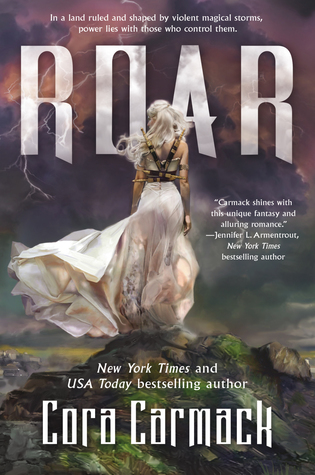 Review:
Roar was the book that was chosen for a buddy read with my favorites, The Bookish Chick, Thrifty Bibliophile, and Books in the Skye. I love reading with these ladies because I've loved almost all the books we've read together and I love being able to talk about my thoughts on the book as we read.
Roar was so fun to read. Cora Carmack is the queen of suspense. There are so many little mysteries that are all linked together that we're just waiting to find out what's really going on. The suspense and mystery in this novel is what kept me going. It left me wanting more right up until the last page.
The characters were interesting and compelling. I love the friend squad that Rora found for herself. I loved their adventures and the things that they taught her. I love a good found family but I'm wondering how things are going to go once they all get back to the city. I'm really interested to see how things will play out and if there will be love triangle. I think there's potential for a certain someone to redeem himself and I'm kind of rooting for it.
The ending was the only thing I didn't like about the book and the reason I gave it four stars on GoodReads instead of five. The ending was left so opened and I didn't like that. I don't mind a cliff hanger but this wasn't that to me. There were too many questions that were left unanswered for my liking.
Overall, I'm so happy we read this book together because I really enjoyed it. The magic system was unique and fascinating and I can't wait to learn more about Rora's abilities and the mysterious big bad. I loved the world and its history. I just cannot wait for the sequel so I can jump back into this world.
Keep on reading lovelies, Amanda.