Summary:
Morrigan Crow is cursed. Born on Eventide, the unluckiest day for any child to be born, Morrigan is blamed for all local misfortunes, from hailstones to heart attacks-and, worst of all, the curse dooms her to die at midnight on her eleventh birthday.
But as Morrigan awaits her fate, a strange and remarkable man named Jupiter North appears. Chased by black-smoke hounds and shadowy hunters on horseback, he whisks her away into the safety of a secret, magical city called Nevermoor.
It's in Nevermoor that Morrigan discovers Jupiter has chosen her to contend for a place in the city's most prestigious organization: the Wunderous Society. In order to join, and to stay in the safety of Nevermoor for good, Morrigan must compete in four difficult and dangerous trials against hundreds of other children-or she'll have to leave the city to confront her deadly fate.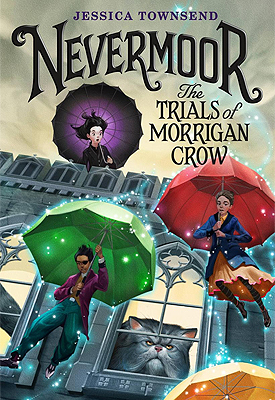 Review:
I flew through this story. I read it in almost one day. It was fun and whimsical with just a hint of darkness. I wasn't as blown away as everyone else seems to be, but maybe that will happen in the second book. I'm going to keep this short and to the point because I'm not the intended audience for this book.
I enjoyed reading this. The world was interesting even though I would have liked a bit more detail and world building. I liked Morrigan and thought she was a good point of view for this story to be told. I thought her thoughts and feelings were interesting. She was probably my favorite part of the book. I thought the plot was interesting. All of the suspense leading up to the big bad Wundersmith kept me interested in the story and wanting to know what was going on.
Overall, I had fun reading this but it was very obviously a middle​e-grad​e story. I thought the characters were funny and odd. The whole story was whimsical and I can't wait to see what chaos happens in book two.
Keep on reading lovelies, Amanda.