Summary:
In this third book in the Lunar Chronicles, Cinder and Captain Thorne are fugitives on the run, now with Scarlet and Wolf in tow. Together, they're plotting to overthrow Queen Levana and her army.
Their best hope lies with Cress, a girl imprisoned on a satellite since childhood who's only ever had her netscreens as company. All that screen time has made Cress an excellent hacker. Unfortunately, she's just received orders from Levana to track down Cinder and her handsome accomplice.
When a daring rescue of Cress goes awry, the group is separated. Cress finally has her freedom, but it comes at a higher price. Meanwhile, Queen Levana will let nothing prevent her marriage to Emperor Kai. Cress, Scarlet, and Cinder may not have signed up to save the world, but they may be the only hope the world has.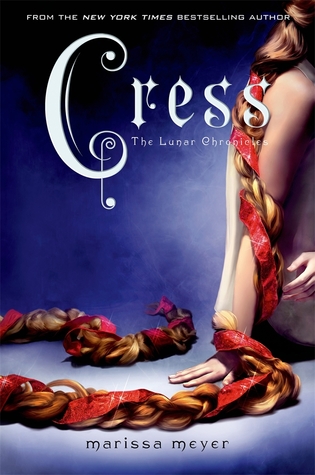 Review:
I loved this book. I am just loving this series more and more the further into it we get. I love the characters. I love the world. I love the narrator. I love the story. I think this one might be my favorite of the series, partially becasue of it being a Rapunzel retelling. Rapunzel is one of my favorite fairytales. I think Meyer has done such a great job incorporating the retellings into this futuristic world she's created.
So, it's told in omniscient third person, which means that the narrator is all knowing and we get to see everything that is going on with all of the relevant characters. I really love this because I love to see what the other characters are up to since they've been split up from the whole group. I love Cinder more than ever. She's clever and doing her best to be what everyone needs her to be. Then there's the Doctor. His story was honestly so sad and I wish it had ended in a different way. I wish we had more time with him. But he's done all he can for the players involved. I love Thorne. He's really growing out of his smart ass, cocky attitude and starting to take things more seriously. I think his disability of being blind was really interesting and I'm glad that sort of representation was put into the story. Cress was honestly probably my favorite character. She's crash landed on earth and literally has no idea what's going on. So of course, she gets into all kinds of trouble. Wolf is still a bit of a mystery to me. I want to know more and I want to see more growth. What we do get to see of Scarlet was interesting. I can't wait to see more of what's actually happening on Luna. I wish we had gotten to see a bit more of her, but I know we will get that in Winter.
Finally, I really have to mention Levana. She's such an interesting villain. I'm excited to read her novella and learn more about her history and motivations. I think she's fierce and intimidating and sometimes a bit terrifying. She's vicious and ambitious and won't stop until she's gotten what she wants.
Last, the narrator for this series is really incredible. Some of the scenes with Levana where she's mad and yelling is done so incredibly well. Then there's the final scene with the Doctor and he's whispering/singing. I just was blown away at this narrator's ability to really make each character sound different and have their own voice. I was bought into the story and couldn't stop listening until I got to the end. This narrator made the story just that much better and I will definitely be looking into what else she has narrated.
Overall, I love this book more than the first two. I'm interested to see if it will become my favorite in the series or if Winter will beat it. I cannot wait to get to the conclusion of this series so I'm going to end this hear and go start the final audiobook.
Keep on reading lovelies, Amanda.