GoodReads Summary:
Eighteen-year-old Trinity Marrow may be going blind, but she can see and communicate with ghosts and spirits. Her unique gift is part of a secret so dangerous that she's been in hiding for years in an isolated compound fiercely guarded by Wardens—gargoyle shape-shifters who protect humankind from demons. If the demons discover the truth about Trinity, they'll devour her, flesh and bone, to enhance their own powers.
When Wardens from another clan arrive with disturbing reports that something out there is killing both demons and Wardens, Trinity's safe world implodes. Not the least because one of the outsiders is the most annoying and fascinating person she's ever met. Zayne has secrets of his own that will upend her world yet again—but working together becomes imperative once demons breach the compound and Trinity's secret comes to light. To save her family and maybe the world, she'll have to put her trust in Zayne. But all bets are off as a supernatural war is unleashed…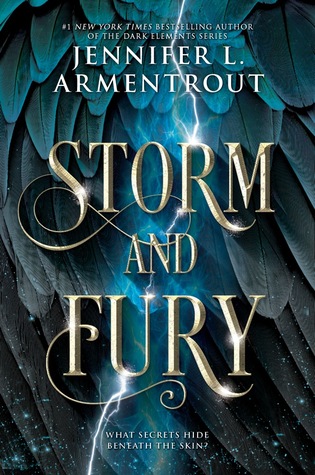 Review:
Jennifer L. Armentrout is an auto-buy author for me. She's the reason that this blog even exists. So when I found out she was coming out with Storm and Fury I knew I had to have it. I have to send a huge thank you to NetGalley for providing me with an eARC of this book I exchange for an honest review.
Storm and Fury was everything I wanted. It was exciting and full of action but also swoony with some romance. I just adored everything about it.
The world building was incredible. This is a portal fantasy where these Wardens (basically gargoyles) exist to protect the world from demons. They're kick-ass and can be pretty scary but I think it's such a creative idea that I love it.
Enter Trinity. She's living in a Warden community but she's not a Warden. She's also not totally human. Trinity was the best. She was sassy and funny and kick ass. She's got a degenerative eye condition but doesn't let that stand in her way of anything. I loved that about her. Despite the struggles in her life she still (mostly) does what she's supposed too.
I loved Zayne. I read the other series with the Wardens years and years ago so I only vaguely remember it. But I remembered Zayne. Trin and Zayne were fiery and I loved every second of it. Their banter was my favorite part of the story. They were so argumentative and just hilarious.
I was so surprised by the plot in this story. I was blown away by the betrayal at the end. I thought the story was going to go one way and it went the complete opposite. I cannot wait to see where the next book will go. And in the meantime, I'll be rereading the other series that I can't for the life of me remember the name of.
Overall, this book was everything I wanted. If you want action, romance, kick-ass gargoyles, and a girl with an eye condition representing how strong she is this is the book for you.
Keep on reading lovelies, Amanda.