Summary:
At the Convent of Sweet Mercy, young girls are raised to be killers. In some few children, the old blood shows, gifting rare talents that can be honed to deadly or mystic effect. But even the mistresses of sword and shadow don't truly understand what they have purchased when Nona Grey is brought to their halls.
A bloodstained child of nine falsely accused of murder, guilty of worse, Nona is stolen from the shadow of the noose. It takes ten years to educate a Red Sister in the ways of blade and fist, but under Abbess Glass's care, there is much more to learn than the arts and death. Among her class, Nona finds a new family—and new enemies.
Despite the security and isolation of the convent, Nona's secret and violent past finds her out, drawing with it the tangled politics of a crumbling empire. Her arrival sparks old feuds to life, igniting vicious struggles within the church and even attracting the eye or the emperor himself.
Beneath a dying sun, Nona Grey must master her inner demons, then loose them on those who stand in her way.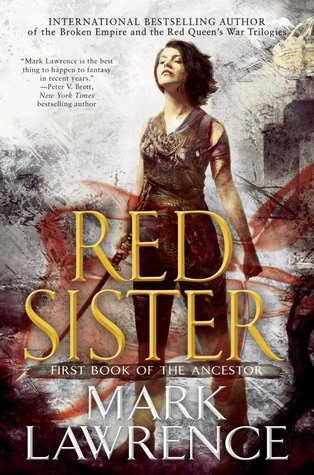 Review:
I had never heard of Mark Lawrence until making my TBR list for the BookTube SFF Awards. That is the reason that I read this book, but I will be reading the second book, Grey Sister because I enjoyed this first book so much. I'm trying to get more into adult fantasy. I've always read and enjoyed it but I'm trying to discover more authors and make more of an effort to read a wider variety of books. I'm glad I found this book because I will certainly be looking into his other books and series.
"Words are steps along a path: the important thing is to get where you're going."
This was a very character driven story which I didn't expect. Because of this, it took me quite a bit of time to get into the story. The first fifty or so pages were tough for me to get through which I think is why it took me so long to actually get around to reading this. I had a few stop/starts with it before really committing to reading it for my O.W.L. Exams. But after I got into the story, I couldn't put it down. I was sucked into the story.
"Anger had its place, it was a weapon not to be neglected, but so did patience, and Nona decided that control lay in deciding which to use and when."
I needed to know more about Nona and her journey. There was a hint of an unreliable narrator which was interesting. She told a few lies about herself and made us wait to find out the truth, but I totally believed her until she was proven wrong or told us that she was lying. It kept me on my toes but frustrated me a little because I just wanted to know Nona's story. Nevertheless, I liked her. She was determined and eager to learn.
I really liked the concept of the convent. The schooling, the levels, the girls all training together. There were such interesting dynamics and relationships. I thought it was really interesting that there were a few occurrences of girl on girl hate like there usually is with girls that age but it never lasted long and I appreciated that.
"Those that burn short burn bright. The shortest lives can cast the longest shadows."
Part of me doesn't really even know what to say about this book and what to even talk about. I loved the story. The characters were incredible and annoying and compelling. My only complaints would be that there was a scene of animal cruelty that I couldn't read and had to skip a few pages to get past it and also ending was confusing and a bit complicated. It seemed almost rushed. Then there were the two bits that were in the future, but it wasn't specified how far into the future or what really was going on. So, I don't know that I'd say I was wholly satisfied with the ending. But overall, I was sucked into the story, the world, and I will certainly be continuing onto the next book.
Keep on reading lovelies, Amanda.