Summary:
The boy king. The war hero. The prince with a demon curled inside his heart. Nikolai Lantsov has always had a gift for the impossible. The people of Ravka don't know what he endured in their bloody civil war and he intends to keep it that way. Yet with each day a dark magic within him grows stronger, threatening to destroy all he has built.
Zoya Nazyalensky has devoted her life to honoring her deadly talents and rebuilding the Grisha army. Despite their magical gifts, Zoya knows the Grisha cannot survive without Ravka as a place of sanctuary- and Ravka cannot survive a weakened king. Zoya will stop at nothing to help Nikolai secure the throne, but she also has new enemies to conquer in the battle to come.
Far north, Nina Zenik wages her own kind of war against the people who would see the Grisha wiped from the earth forever. Burdened by grief and a terrifying power, Nina must face the pain of her past if she has any hope of defeating the dangers that await her on the ice.
Ravka's king. Ravka's general. Ravka's spy. They will journey past the boundaries of science and superstition, of magic and faith, and risk everything to save a broken nation. But some secrets aren't meant to stay buried, and some wounds aren't meant to heal.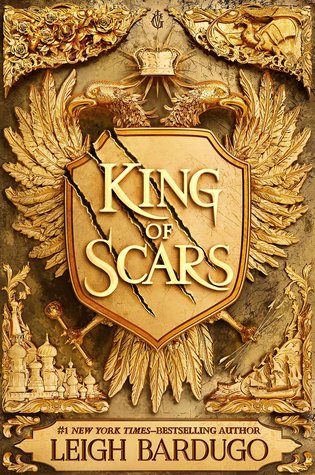 Review:
I loved this book from the first page to the last. There are so many mixed reviews out there and I don't understand how people didn't like this. It doesn't make any sense to me. I loved being back in this world. I loved being back with these characters. I have not a single bad word to say about King of Scars.
"You do not use it. You are it. The storm is in your bones."
I adored getting to spend more time with these characters. Nina was, as always, fierce and fabulous. She was full of passion and a desire to fight for what's right even if it's hard. She doesn't respect authority, probably from all her time in Ketterdam. I loved hearing her inner monologue, her mentions of our favorite Dregs and our dear, dear Mathias. I love Nina and all her sass and I can't wait to see what happens with her next.
"All fuels burn differently. Some faster, some hotter. Hate is one kind of fuel. But hate that began as devotion? That makes another kind of flame."
Then there's the equally fierce but mostly terrifying Zoya. I seriously loved getting chapters from her perspective. This was something I wanted from the Shadow and Bone trilogy. Getting to see Zoya reflect on things from the past was really interesting. Additionally, her point of view opposite that of Nikolai was a perfect balance. She isn't a pessimist perse, but she's a voice of reason and keeps things based in reality. I really liked getting to know her better and I'm dying to know what she does next.
"Most of us can hide our greatest hurt and longings. It's how we survive each day. We pretend the  pain isn't there, that we are  made of scars instead of  wounds."
Finally, the King of Scars, Nikolai. I adore him just as much as ever. I think his character gets only more interesting and complex the more we learn about him. I liked getting to learn about the darkness within him and his battles with keeping it at bay.
"Stop punishing yourself for being someone with a heart. You cannot protect yourself from suffering. To live is to grieve. You are not protecting yourself by shutting yourself off from the world."
The world of the Grisha is one that draws me right in until the very last page and then never fails to leave me wanting more. I wanted to start the book from the beginning as soon as I was finished. The world building that Bardugo does is intricate and incredible. The Grishaverse is one of my favorite places to be and I love it even more with each visit I make.
"They would build a new world together. But first they had to  burn the old one down."
Last to talk about is the plot. I hate to say it, but the twist in the final pages of King of Scars was a smidge predictable. I think this was the intention because it was heavily foreshadowed throughout the book. I don't think this is a bad thing, just something that I thought I'd mention because I'm usually pretty back at predicting things. I thought the writing was compelling and just added that much more to the atmosphere of the story. I think the different perspectives are going to bring some interesting things to the next book and I just cannot wait to see what Leigh will come out with next.
Keep on reading lovelies, Amanda.