GoodReads Review:
Twelve-year-old Aru Shah has a tendency to stretch the truth in order to fit in at school. While her classmates are jetting off to family vacations in exotic locales, she'll be spending her autumn break at home, in the Museum of Ancient Indian Art and Culture, waiting for her mom to return from her latest archeological trip. Is it any wonder that Aru makes up stories about being royalty, traveling to Paris, and having a chauffeur?
One day, three schoolmates show up at Aru's doorstep to catch her in a lie. They don't believe her claim that the museum's Lamp of Bharata is cursed, and they dare Aru to prove it. Just a quick light, Aru thinks. Then she can get herself out of this mess and never ever fib again.
But lighting the lamp has dire consequences. She unwittingly frees the Sleeper, an ancient demon whose duty it is to awaken the God of Destruction. Her classmates and beloved mother are frozen in time, and it's up to Aru to save them.
The only way to stop the demon is to find the reincarnations of the five legendary Pandava brothers, protagonists of the Hindu epic poem, the Mahabharata, and journey through the Kingdom of Death. But how is one girl in Spider-Man pajamas supposed to do all that?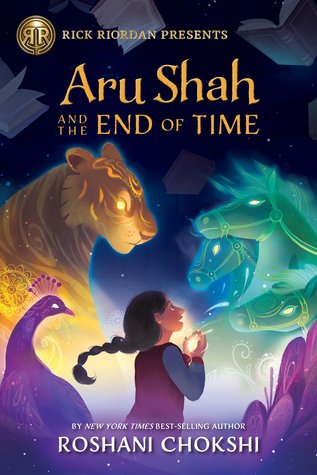 Review:
I adored this book. I've recently tried out reading some middle-grade books because I've heard so many people raving about a handful of books that are in this age range. I picked Aru Shah up specifically because I'm trying to read all the books for the SFF Awards (more information on those here). I've always loved mythology and superheroes and things like that so it wasn't a huge surprise that I enjoyed this book. But it surprised me just how much I loved it.
I listened to the audiobook and really enjoyed it. The short chapters made it seem like the story was flying by. I felt like I was getting through the story so quickly, probably because I was just genuinely enjoying the story. I was laughing and just all around having a good time listening.
Aru Shah was funny and entertaining. But she was flawed and made mistakes. I loved her. She was silly and curious, passionate and fun. She made mistakes but never let those mistakes define her. She recognized what she was doing wrong and made a point to do better and try to make up for her mistakes.
I also adored Mini. She was nerdy and smart and exactly what Aru needed in her life. I think she was a great addition to the story. I loved the relationship that they developed in this story.
I don't want to just go on and on about the relationships because those were my favorite things. (Yes, I'm thinking of our girl's favorite pigeon.) Also, the way that the story ended let the perfect amount of wanting more; wanting to know what adventure the girls will go on next and how they will find their other brothers and sisters.
Finally, the mythology. I adored the parts of the story surrounding the Indian mythology because it's not something I'm particularly familiar with. So, after finishing this story I feel as if I've learned a lot, but also had a great time while doing so. I can't wait to learn more about the Pandava brothers and the other various gods mentioned.
Overall, I just enjoyed every minute of this audiobook and I cannot wait to spend some more time with these characters and go on more adventures with them.
Keep on reading lovelies, Amanda.