GoodReads Summary:
Everyone knows Daisy Jones & The Six, but nobody knows the reason behind their split at the absolute height of their popularity . . . until now.
Daisy is a girl coming of age in L.A. in the late sixties, sneaking into clubs on the Sunset Strip, sleeping with rock stars, and dreaming of singing at the Whisky a Go Go. The sex and drugs are thrilling, but it's the rock and roll she loves most. By the time she's twenty, her voice is getting noticed, and she has the kind of heedless beauty that makes people do crazy things.
Also getting noticed is The Six, a band led by the brooding Billy Dunne. On the eve of their first tour, his girlfriend Camila finds out she's pregnant, and with the pressure of impending fatherhood and fame, Billy goes a little wild on the road.
Daisy and Billy cross paths when a producer realizes that the key to supercharged success is to put the two together. What happens next will become the stuff of legend.
The making of that legend is chronicled in this riveting and unforgettable novel, written as an oral history of one of the biggest bands of the seventies. Taylor Jenkins Reid is a talented writer who takes her work to a new level with Daisy Jones & The Six, brilliantly capturing a place and time in an utterly distinctive voice.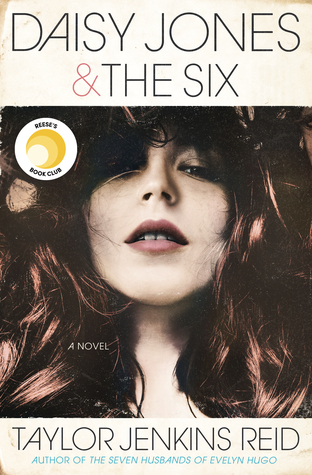 Review:
There were so many things I loved about Daisy Jones and the Six that I honestly don't even know where to start. Taylor Jenkins Reid is so incredibly talented. I can only hope to be as skilled as she is one day. I listened to the audiobook for this story and I'm very glad I did. I'll talk about that first. This audiobook was narrated by a full cast. Each character had its own narrator which is one of my favorite things. I adore audiobooks with full casts. Each narrator bought life and personality to their character. I loved the interview formatting of the story as well. Bringing up an event or time period and then letting each of the characters tell the story of that event the way they remembered it was so complex and captivating. Which brings me to one of the things that really fascinated me about this story. Because it was the memories of all seven of the band members, plus a few other characters, no one characters told the same story. They each told things they were they remembered so the experiences varied from character to character. I think that added so much complexity to the story. It really made you think about how no two people have the same memories or experiences of the same events. Another thing that Taylor Jenkins Reid does really well is writing a story that pulls you in and doesn't let you go until she's finished. After reading this book, it was hard not to think that these were all real people and a totally true story. The fact that Reid can make me think, "wait this didn't happen?" really just blows me away.
I'm not going to talk about each character because there were entirely too many and that would make this review way too long. The characters each had their own personality and their own voice which I appreciate. They were distinct and vibrant, each in their own ways. They all had different goals and motivations which really made for a great story. They brought such fun and excitement and life into the story. I think the character were really what made Daisy Jones and the Six was it was. The story was all about the characters and their experiences and their feelings. There wasn't really a specific plot outside of following the band members and other miscellaneous people as they rose to fame and then eventually fell apart. I think this story was written beautifully. I loved the whole experience. I cannot wait to see what Taylor Jenkins Reid comes up with next.
Keep on reading lovelies, Amanda.