GoodReads Summary:
A girl who can speak to gods must save her people without destroying herself.
A prince in danger must decide who to trust.
A boy with a monstrous secret waits in the wings.
Together, they must assassinate the king and stop the war.
In a centuries-long war where beauty and brutality meet, their three paths entwine in a shadowy world of spilled blood and mysterious saints, where a forbidden romance threatens to tip the scales between dark and light. Wicked Saints is the thrilling start to Emily A. Duncan's devastatingly Gothic Something Dark and Holy trilogy.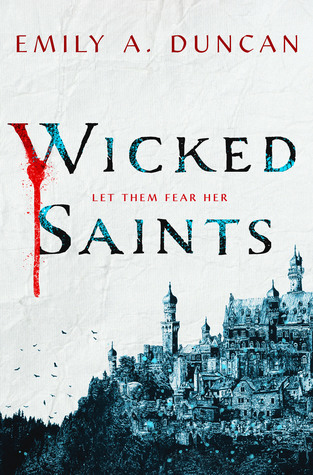 Review:
I received Wicked Saints as an advanced review copy thanks to NetGalley in exchange for an honest review. I finished this book earlier tonight and I'm still not sure how I feel about it.
I had trouble in the beginning of the story with the world building and the two alternating perspectives. Because the two characters came from different places, they had significantly different views on the world and the politics within. So, going back and forth between the two while trying to learn about the world and which countries thought what and which terms meant what was a little confusing for me. But that wasn't long lasting. I got the hang of the world and found myself completely immersed in the story. The other thing I want to mention with learning the world was the character names. I don't think I could save a single one of them if my life depended on it. So I gave them all nicknames in my head, but until I did that some parts were tough.
The book starts out action packed and leaves you wanting more, but also immediately caring about the safety of the main characters. I loved this set up for the story. Things calm down for a bit as we learn about the world we're in and how things work. This is where we really start to get to know the characters.
I immediately like Serefin even though I think we weren't supposed to. I liked his complete distain for the things he's 'supposed' to be doing.
Then there's Nadya who does what she's supposed to almost all the time. She was interesting. And I'm still not sure if I completely liked her. She took risks even when she knew they were risks and somehow was still surprised when it all backfired in her face. I thought her powers were incredibly interesting. I would have enjoyed seeing them used with the gods a bit more though. I'm interested to see where her story is going to go with the way this book ended.
Finally, Malachiacz. I wanted to like him. I really did. But I preferred Seferin the whole time. There was something about Malachiacz that I didn't like and didn't want Nadya to involve herself in.
Overall, the world and the magic systems in it were complex and interesting. I'd love to learn even more about them in the next book. I'm also hoping we get to travel a bit more and see some of Nadya's home country. The characters were interesting and entertaining. There was some diversity which is always appreciated. I totally loved all the supporting characters. Wicked Saints was action packed and full of fun. Though the ending had me a bit confused and definitely wanting more. I'm not sure how I'm going to wait so long to see where this story goes next.
Keep on reading lovelies, Amanda.