Summary:
One day Carver Briggs had it all—three best friends, a supportive family, and a reputation as a talented writer at his high school, Nashville Academy of Arts.
The next day he lost it all when he sent a simple text to his friend Mars, right before Mars, Eli, and Blake were killed in a car crash.
Now Carver can't stop blaming himself for the accident, and he's not the only one. Eli's twin sister is trying to freeze him out of school with her death-ray stare. And Mars's father, a powerful judge, is pressuring the district attorney to open a criminal investigation into Carver's actions.
Luckily, Carver has some unexpected allies: Eli's girlfriend, the only person to stand by him at school; Dr. Mendez, his new therapist; and Blake's grandmother, who asks Carver to spend a Goodbye Day with her to share their memories and say a proper goodbye to his friend.
Soon the other families are asking for a Goodbye Day with Carver, but he's unsure of their motives. Will they all be able to make peace with their losses, or will these Goodbye Days bring Carver one step closer to a complete breakdown or—even worse—prison?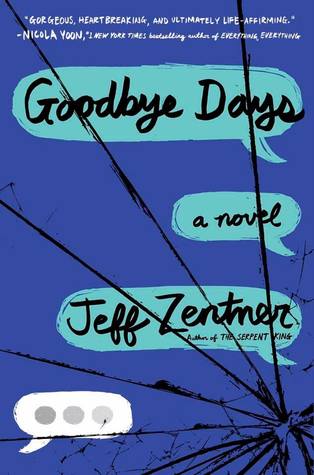 Review:
Jeff Zentner has done it again. Goodbye Days had me laughing and crying and heartbroken. I loved every page. It was such an interesting story with so many different dynamics and perspectives. I thought it brought a really interesting conversation to the table. There are many different things I loved about this book.
"Funny how people move through this world leaving little pieces of their story with the people they meet,  for them to carry. Makes you wonder what'd happen if all those people put their puzzle pieces together."
The first things were the characters. Carver was flawed but relatable. He starts having panic attacks after his three best friends die, then starts seeing a therapist, Dr. Mendez. I loved Carver as our main character. He was a really get voice to tell this story. With all of the grief he's dealing with, he's also trying to work through the guilt of thinking he's the cause of their death. He goes through all the what if's and maybes, all while dealing with starting a new school year, without his friends. I liked Carver because he showed that it was okay to be vulnerable and flawed. That you didn't have to have it all figured out. He showed that therapy is something that's okay and can really help. I thought that was a really great part of the story. It brought an interesting conversation about mental health and guilt and grief all together in one setting.
"Grief if weird. It seems to come in these waves out of nowhere. One minute I'm standing in the ocean, fine. The next minute I'm drowning."
Georgia, Carver's older sister, was a wonderful addition to the story. I love books with siblings in them and this was an excellent one. The relationship she and Carver had was realistic and warmed my little heart. I adored that Georgia was here for Carver when he really needed her. She looked out for him and I'm a sucker for a good brother-sister relationship.
"The more I consider the mysteries of the universe, the less I understand them."
Jesmyn was Eli's girlfriend and then became Carver's friend. I thought she was sweet and funny and a great influence on Carver. She isn't afraid to set him straight but she's there to support him when he needs it. I like that she's there to experience and move through the grief alongside Carver.
"Dignity is overrated. People can live without it. I know because I did. But people can't live without laughter. I'll gladly change dignity for laughter because dignity is cheap and laughter is worth everything."
Then there's the Goodbye Days. I thought this was a really interesting concept. A day to share memories and stories. I thought it was interesting how Carver talked about it before letting his guilt agree to it for him. I really enjoyed how the Goodbye Days kind of came full circle. The first was exactly what it was supposed to be, each becoming a little less positive until the third ended the way it should have been all along. That's super vague but I don't want to give anything away about the story.
"We assume that it's better to survive things, but the ones who don't survive don't have to miss anyone."
Overall, I loved every page of this book. It was sad but funny at times. It was thought-provoking, but also an enjoyable story. I loved all of the little things that came from Zentner's real-life experiences that he talks about on social media and elsewhere. I also absolutely adored the tidbits from The Serpent King that we got to see in this story. This is a new favorite book without a doubt.
Keep on reading lovelies, Amanda.