GoodReads Summary:
Nix has spent her entire life aboard her father's ship, sailing across the centuries, across the world, across myth and imagination.
As long as her father has a map for it, he can sail to any time, any place, real or imagined: nineteenth-century China, the land from One Thousand and One Nights, a mythic version of Africa. Along the way they have found crewmates and friends, and even a disarming thief who could come to mean much more to Nix.
But the end to it all looms closer every day.
Her father is obsessed with obtaining the one map, 1868 Honolulu, that could take him back to his lost love, Nix's mother. Even though getting it—and going there—could erase Nix's very existence.
For the first time, Nix is entering unknown waters.
She could find herself, find her family, find her own fantastical ability, her own epic love.
Or she could disappear.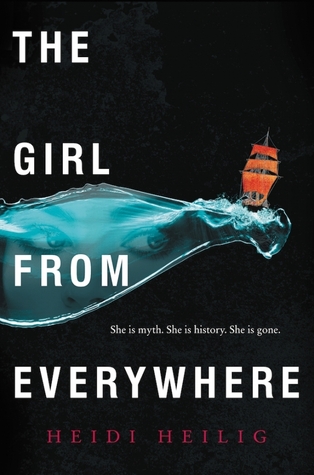 Review:
Pirates is something I'm always interested in. It's a buzzword of mine. This story was not about pirates in the way that I originally thought. The Girl from Everywhere is more a story of a father and daughter and their found family. I loved it. It was fast paced and exciting. I was surprised by how much I enjoyed following Nix and her adventures. She's brave and funny, curious and ambitious. I thought she was a great main character. Her relationship with her father, the Capitan, was complex and dysfunctional. It brought a really interesting dynamic to the story. They were sassy and complicated. I was happy to see Nix stand up for herself and fight for her right to learn more and for her father to treat her better. This relationship took centerstage in the book. Nix was constantly trying to save her father from himself and cleaning up after him.
I loved the supporting characters. The fellow pirates each had their own unique and thought out back story. I liked that they had their own personalities and each added something special to the story.
Finally, the setting was my favorite part. I loved seeing historic Hawaii and the myths and lore than come from there. There were also a few other places visited. I loved the magic, time traveling pirates, it was interesting and unique. I would have appreciated learning a bit more about how the time travel magic actually worked.
Overall, this story was fun and interesting. I couldn't get enough of the banter between characters and the antics they got up to. I'm interested to see what else they get up to in the next book.
Keep on reading lovelies, Amanda.