Summary:
Dill has had to wrestle with vipers his whole life—at home, as the only son of a Pentecostal minister who urges him to handle poisonous rattlesnakes, and at school, where he faces down bullies who target him for his father's extreme faith and very public fall from grace.
The only antidote to all this venom is his friendship with fellow outcasts Travis and Lydia. But as they are starting their senior year, Dill feels the coils of his future tightening around him. The end of high school will lead to new beginnings for Lydia, whose edgy fashion blog is her ticket out of their rural Tennessee town. And Travis is happy wherever he is thanks to his obsession with the epic book series Bloodfall and the fangirl who may be turning his harsh reality into real-life fantasy. Dill's only escapes are his music and his secret feelings for Lydia—neither of which he is brave enough to share. Graduation feels more like an ending to Dill than a beginning. But even before then, he must cope with another ending—one that will rock his life to the core.
Debut novelist Jeff Zentner provides an unblinking and at time comic vie of the hard realities of growing up in the Bible Belt, and an intimate look at the struggles to find one's true self in the wreckage of the past.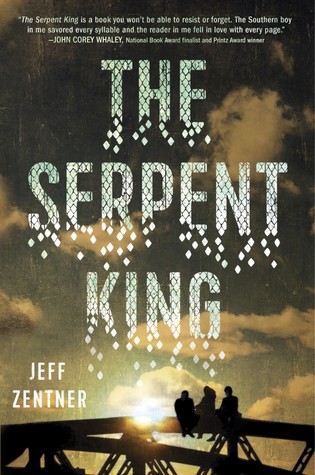 Review:
The Serpent King is a story that leaves a mark. We follow three characters Dill, Lydia, and Travis who are as different as different can get. But they are the best of friends. I enjoyed these three so much. They really drove the story. The plot was based on the actions and decisions of the characters. Really the whole storyline was these friends deciding their futures after high school. I thought this was a really interesting way to tell the story. It was very well written, well-paced, and interesting. Even when I didn't like what the characters were doing or saying, I still understood and liked them overall.
"Nothing makes you feel more naked than someone identifying a desire  you never knew you possessed."
Lydia is fierce and unapologetic about who she is. I loved her. She was witty and sharp, quick to spit back anything she was given. She was loyal and full of love for her people. Aware of the things that she has that others might not. She was ambitious and knew exactly what she wanted from life and how she was going to get it. She pushed her friends to go after what they deserve in life.
Travis was the nerd. Always with his face in a book (something I could relate to), and wishing he was in his favorite fantasy world. He really got the shit end of the stick with his family. I think I would have liked to see a little more of his perspective though. More of him dealing with his own issues. I think he had the best character development and I will forever be mad at Jeff Zentner for the way he ended Travis's storyline.
"Why would God make such a universe in someone and then destroy it?"
Finally, there's Dill. A kid that faces the consequences from his father's actions every day. I think what I liked most about Dill was that he kept his faith despite his less than ideal circumstances. He still believes in God despite the things in his life that make have taken faith from another. I didn't like Dill all the time. He too often threw himself a pity party because he wasn't going to let himself make a better life because of others. But by the end of the story I loved him again and really respected him.
"And if you're going to live, you might as well do painful, brave, and beautiful things."
Overall, I enjoyed The Serpent King immensely. This story talks about depression and how to let others support you when you need it. It also talks about doing what's best for yourself and your future without letting the ideas of others hold you back from your full potential. I loved the messages in the story told through realistic and relatable characters.
Keep on reading lovelies, Amanda.