GoodReads Summary:
Follow a motley crew on an exciting journey through space—and one adventurous young explorer who discovers the meaning of family in the far reaches of the universe—in this light-hearted debut space opera from a rising sci-fi star.
Rosemary Harper doesn't expect much when she joins the crew of the aging Wayfarer. While the patched-up ship has seen better days, it offers her a bed, a chance to explore the far-off corners of the galaxy, and most importantly, some distance from her past. An introspective young woman who learned early to keep to herself, she's never met anyone remotely like the ship's diverse crew, including Sissix, the exotic reptilian pilot, chatty engineers Kizzy and Jenks who keep the ship running, and Ashby, their noble captain.
Life aboard the Wayfarer is chaotic and crazy—exactly what Rosemary wants. It's also about to get extremely dangerous when the crew is offered the job of a lifetime. Tunneling wormholes through space to a distant planet is definitely lucrative and will keep them comfortable for years. But risking her life wasn't part of the plan. In the far reaches of deep space, the tiny Wayfarer crew will confront a host of unexpected mishaps and thrilling adventures that force them to depend on each other. To survive, Rosemary's got to learn how to rely on this assortment of oddballs—an experience that teaches her about love and trust, and that having a family isn't necessarily the worst thing in the universe.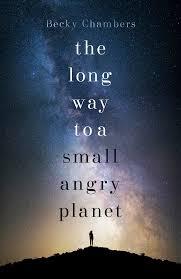 Review:
I borrowed this book from my library because I'm trying to read all of the books nominated for the BookTube SFF Awards hosted by a handful of people (check it out here). I love science fiction but have realized that I don't read enough of it. The Long Way to a Small, Angry Planet by Becky Chambers was not what I expected at all. I thought I was going to get an action-packed space adventure, but really, I got a story about a found family. This story tells of a group of people that are so completely different from one another, but somehow still manage to be all the right pieces. I was not expecting such a character-driven story, but it was a pleasant surprise.
"It was hard  to feel weird in a place where everybody was weird."
The plot took a back seat to the characters and world-building of this book. It was there, it just wasn't the highlight. It was interesting and political and I'm excited to see if/what part it plays in the next book. I thought it was incredibly interesting how Chambers brought the world building and plot together. We're reading about all of the different alien species and the worlds they come from all while working toward the climax of the story with an alien species that is mostly unknown to the rest of the universe.
"We cannot blame ourselves for the wars our parents start. Sometimes the very best thing we can do is walk away."
The bread and butter of the story were the characters. They really were the best part of the story. We first meet Rosemary who is the most relatable, she's a human from Mars. Running from her past, she joins a tunneling crew that travels all over space. We see the story mostly through her eyes which was a great choice because she's so new to space travel, so the other characters were constantly explaining and teaching her about the cultures of the other crew members. Rosemary was naive but learned quickly and was good at her job. Then there's Sissex, the navigator. She was the more interesting of the aliens. Learning about her species and culture was my favorite. She was just full of love and friendship. She made my heart warm. Kizzy and Jenks were the techs. They kept the ship running. Kizzy was interesting and entertaining. She was full of nonsense and silliness. She made me smile and laugh. Her relationship with Jenks was the best. They are a great example of found families. He's the brother she always wanted and that was so clear. Ashby is our fearless captain. He's smart and a great leader. He was complex and a little mysterious. I wish we learned a bit more about him. It was clear he was loyal and really cared about his crew. Dr. Chef was probably the most interesting to me. The most difficult to picture, but also the one I want to meet the most. He's so full of wisdom and love and all the good things. He looks out for everyone and just wants to enjoy life. That brings us to Corbin, the opposite of Dr. Chef. The crew member that's mean and grumpy and is just there to do his job and not make any friends. I think he had the best character development. I didn't hate him by the end of the book. Finally, Ohan. He was intrigued but also strange. I thought his whole culture was fascinating. I hope he gets his own book later on.
"Feelings are relative. And at the root, they're all the same, even if they grow from different experiences and exist on different scales."
I also have to mention the things this book discusses. I'm not sure if it was intentional or if I'm seeing it because of the amount that diversity is talked about and brought to the forefront. But this book has so many metaphors for diversity. With the alien races, relationships and all of that I think it really brings good conversations to the table. There are some interspecies relationships, some female/female relationships, characters with gender-neutral pronouns. I think this story talks about relationships and racism and how everyone should just love one another in all the right ways.
"I never thought of fear as something that can go away. It just is. It reminds me that I want to stay alive. That doesn't strike me as a bad thing."
I really cannot explain why or how much I enjoyed this story. The found-family, the world building, the politics, in space. It's everything I could have ever wanted and didn't even know it.
Keep on reading lovelies, Amanda.