GoodReads Summary:
Six years ago, Moss Jefferies' father was murdered by an Oakland police officer. Along with losing a parent, the media's vilification of his father and lack of accountability has left Moss with near crippling panic attacks.
Now, in his sophomore year of high school, Moss and his fellow classmates find themselves increasingly treated like criminals by their own school. New rules. Random locker searches. Constant intimidation and Oakland Police Department stationed in their halls. Despite their youth, the students decide to organize and push back against the administration.
When tensions hit a fever pitch and tragedy strikes, Moss must face a difficult choice: give in to fear and hate or realize that anger can actually be a gift.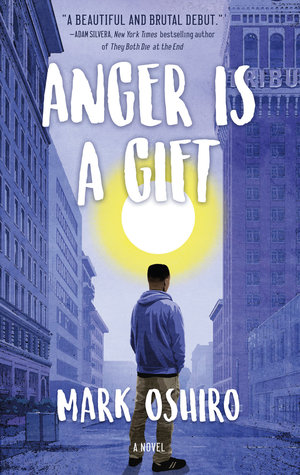 Review:
I honestly don't know what to say about Anger is a Gift. I read this book in one sitting last night because I just couldn't stop even though it was 2am and I have a six-month-old so sleep is very precious in my house. I just couldn't put it down. I'd like to mention that this book has quite a fair share of mixed reviews. It seems that people either loved it or hated it. I also want to mention that I am a straight white female so I'm not really the authority to determine whether the things in this book were portrayed accurately or not.
"And he cried because his world was split. He'd been cursed by violence and loss. He'd been blessed with love and support. He couldn't separate them, and he had to learn to live with both."
Anger is a Gift has such a diverse cast of characters. I thought it was so interesting (but again I can't really judge as to whether they were accurate in their representation). There were characters of all races, religions, sexualities, and even mental health issues. I really enjoyed how casually they were talked about as characters. Moss's little squad of friends was one I really enjoyed. They all had their own distinct personalities and each played an important role in this story. They were all so full of passion and desire to change their situation. I think it was really compelling to see these high school characters really try to make a difference at their school.
"Anger is a gift. Remember that." She stood. "You gotta grasp on to it, hold it tight and use it as ammunition. You use that anger to get things done instead of  just stewing in it."
The catalyst of the story killed me. I cried for basically the last 40% of the book. The events in Anger is a Gift were real and hard. The political message sent in this story was hard hitting and relevant. It left me wondering what I can do in order to do my part in this fight.
"How do you do it, Moss?" "Do what?" "Exist. When the world hates you so much."

Overall, I really adored this book. It had characters I was quickly invested in. A story with a message that needs to be shared. I'm sad to see that this book isn't talked about more than it is because it was such an important story. Have you read Anger is a Gift? What did you think of the representation and the message? Let me know in the comments!
Keep on reading lovelies, Amanda.