Summary:
Xiomara Batista feels unheard and unable to hide in her Harlem neighborhood. Ever since her body grew into curves, she has learned to let her fists and her fierceness do the talking.
But Xiomara has plenty she wants to say, and she pours her frustration onto the pages of a leather notebook, reciting the words to herself life prayers—especially after she catches feelings for a boy in her bio class. With Mami's determination to force her daughter to obey the laws of the church, Xiomara understands that her thoughts are best kept to herself.
When she is invited to join her schools slam poetry club, she knows that she could never get around Mami's rules to attend, much less speak her words out loud. But still, she can't stop thinking about preforming her poems.
Because in spite of a world that may not want to hear her, Xiomara refuses to be silent.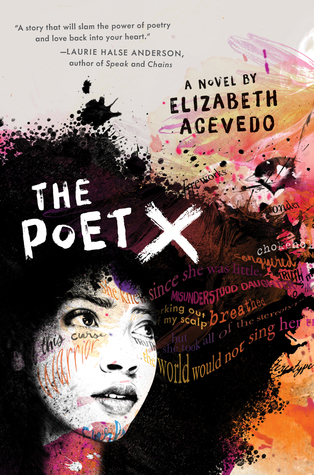 Review:
The Poet X has been recommended to me again and again since it was published, especially the audiobook. I've put it on several TBR lists, but it hasn't stuck until this round of the contemporaryathon. I found it available as an audiobook from my library and I had a fair bit of driving to do today so I thought this short audiobook would be perfect. I had a feeling I was going to enjoy this story but I was given so much more.
I delighted in this story. Xiomara was fierce and fabulous, full of love and passion. I adored absolutely everything about her. She's strong and unafraid. I loved her voice in this story, questioning everything despite the consequences she knew were inevitable. She wanted everything out of life, even though she knew her Mami wouldn't approve. She loved her twin brother with her whole heart and soul and I loved his part in the story. I have three brothers, so I relate to the love she had for her sibling. It made me sad that he didn't stick up for her more even though she made it clear that she was the strong one, she was the fighter, she was the one to tell the world to back off.
This story tells of a girl being pressured to live the life her mother couldn't. I think there should be more stories that tell of the goals and aspirations that parents put on their children. I think it's so important to talk about, so important for kids to know that their goals and dreams don't have to be their parent's goals and dreams. All too often people have children and push those children to live the lives they themselves didn't manage to live. I think it's especially prevalent in the culture that these characters are a part of. Additionally, the religion that is focused on in this book I think it a part of the culture of the characters as well. The Poet X tells us how her Dominican mother pushes her love for God onto her daughter even though Xiomara has questions and wants to explore her own path.
I really appreciated that Xiomara found an outlet in writing. This was most definitely my favorite part of the story. I can completely relate to this because writing is my outlet too. When it feels like everything is going wrong, I can find my footing in putting words on a page. I've recently found my own passion for poetry so I loved hearing the things that Xiomara wrote.
This brings me to the final thing I want to mention. The writing in The Poet X was absolutely incredible. It's so obvious (aside from the book being written in verse) that Acevedo is a poet. Her words were lyrical and clearly carefully chosen. They fell together beautifully. I will without a doubt be finding and reading more work written by Elizabeth Acevedo. Overall, if you couldn't tell, I really loved this book. I totally understand why so many have loved it because I am now on that list of people. I recommend this book to all lovers of contemporary. I also highly recommend the audiobook, it was a quick but impactful listen.
Keep on reading lovelies, Amanda.