Summary:
Vivian Carter is fed up. Fed up with her small-town Texas high school where the football team can do no wrong. Fed up with the sexist dress codes and hallway harassment. But most of all, Viv Carter is fed up with always following the rules.
Viv's mom was a punk rock Riot Grrrl in the '90s, so now Viv takes a page from her mother's past and creates a feminist zine that she distributes anonymously to her classmates. She's just blowing off steam, but other girls respond. Pretty soon Viv is forging friendships with young women across the divides of cliques and popularity rankings, and she realizes that what she has started is nothing short of a girl revolution.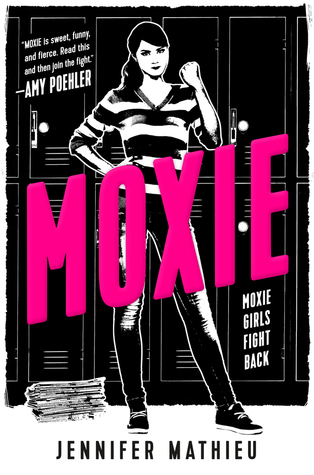 Review:
Moxie was the chosen book for the Fierce Female Readathon in February. It was the absolute perfect book to celebrate Fierce Female Reads February. Moxie was jam packed full of feminism in all the best ways. I've read a fair bit of young adult fiction that is sprinkled with feminism and none of them come close to this story. It was fun and empowering and relatable in all the right ways.
Vivian Carter is a girl that many young girls should emulate. She grows so much in this book from the start. Trying to be more like her mother was growing up, she starts a movement that rollercoasters into something bigger than she'd ever imagined.
I think the friendships and other various relationships that we learn and love in this book are wonderful. They're real and relatable. Most girls wouldn't just automatically jump on the Moxie Girl bandwagon. Some might not want to get in trouble and some might just want to get through the days and escape the small town they live in. All of these girls are in this story. I think that's what I like most. Even though we follow one characters perspective, we still see so many different characters that every reader of Moxie will find someone they can relate to.
The messages share within these pages were so important. Taking place in a small town in Texas where the football team seems to be the only thing anyone in town cares about, so many injustices get looked over. Moxie tells us that we shouldn't let things like this go without action. It tells us that female revolutions are important and sometimes necessary when the adults aren't doing their jobs to protect us. It tells us that the ladies need to stick together and stick up for our rights and fair treatment.
Overall, this story was fun and frustrating and rewarding. It was full of girl power and feminism the way it should be done. Girls banding together to fight inequality and sexism. I loved every minute of this story. I also listened to the audiobook and the narrator did a fantastic job. She made the story just that much better and I felt like I finished it in no time at all.
Keep on reading lovelies, Amanda.