Summary:
Kaz Brekker and his crew have just pulled off a heist so daring even they didn't think they'd survive. But instead of divvying up a fat reward, they're right back to fighting for their lives. Double-crossed and badly weakened, the crew is low on resources, allies, and hope. As powerful forces from around the world descend on Ketterdam to root out the secrets of the dangerous drug known as jurda parem, old rivals and new enemies emerge to challenge Kaz's cunning and test the team's fragile loyalties. A war will be waged on the cities dark and twisting streets—a battle for revenge and redemption that will decide the fate of the Grisha world.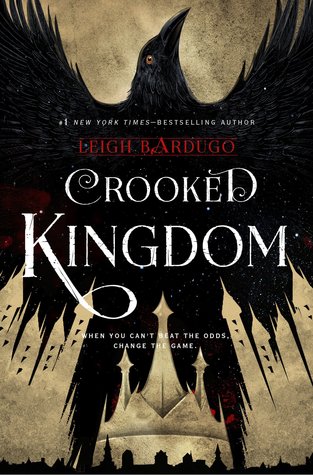 Review:
I honestly don't know how I'm supposed to express my love for this book with real words. Aside from writing 'I loved this' over and over again I'm not sure what you people want from me. I'm just kidding friends. First off, I still love the setting here. In Ketterdam it's a whole different world from the familiar Ravka from the Shadow and Bone trilogy. I love the dirty and grittiness of the Barrel. I love the gang aspect with these characters. They're supposed to be criminals, low lives, and good for nothing. But they show us that they're so much more over and over again. These friends prove that they're more than their assumptions time and time again. This friend group is probably the most appealing thing in the story. While the plot is interesting, the characters are really what I'm here for. From the irreparably damaged Kaz to the ever-noble Matthias. They all are just the perfect combination of sass and anger and unresolved issues. They each bring something unique but essential to the friend squad and I loved every second of it.
"What you want and what the world needs are not always in accord, Kaz. Praying and wishing are not the same thing."
Nina is probably my favorite and I'm excited/nervous for her story to continue in King of Scars because people have said they just didn't care about Nina's chapters. I feel like Nina really got the worst out of everyone. Leigh Bardugo really did her dirty and she didn't deserve it. Despite this, she made me laugh. Her love of cake and waffles and sweets was so relatable and just put a smile on my face.
"She was the Queen of Mourning, and in its depths, she would never drown."
Matthias made laugh with his attempts at restraint and Nina always messing with him. I really admired his strength for trying to fight everything he's been taught his whole life and everything he's ever known. Trying to come to terms with the fact that he and his home country are wrong, he really shows growth and I loved it.
"You aren't a flower, you're every blossom in the wood blooming at once. You are a tidal wave. You're a stampede. You are overwhelming."
Jesper also had some great growth in this book and I'd love to see where he is now. I think he really comes to terms with who he is and the abilities and flaws that he has. I think he developed wonderfully after making some mistakes in the first book, he does anything and everything he can to make amends for the things he did. Despite him trying to make amends, he was full of jokes and sarcasm and sass and I loved it.
"Mati en sheva yelu. This action will have no echo. It means we won't repeat the same mistakes, that we won't continue to do harm."
Then there's little Wylan. He's probably not little, but the way that everyone talks to him I picture him as a small boy. He starts off as our designated soft boy but develops into so much more. I think Wylan is really just trying to prove himself and where his loyalties are. I think Wylan's ending was the best. He really is the only one that got everything he wanted but I think he deserved it.
"You're weak because you're afraid of people seeing your weakness. You're letting shame decide who you are."
Our Wraith is next, the beloved Inej. She has a lot of inner conflict in these books and I really get it. It makes her relatable. She does what she needs to survive, even if those things don't always sit well with her, even if those things don't always align with her morals. I think she is the most interesting character because of this.
"We learn to hold our heads as if we wear crowns. We learn to wring magic from the ordinary. That was how you survived when you weren't chosen, when there was no royal blood in your veins. When the world owed you nothing, you demanded something of it anyway."
Finally, our fearless leader, Kaz Brekker. The criminal mastermind bent on revenge. He's incredibly smart and clever. He always seems to have a solution for everything and sometimes those solutions are so crazy they just might work. I found myself reading and thinking to myself, 'Holy shit that was lucky' and then ten pages later finding out that it was Kaz that planned it all along. There were parts that I thought there was no way Kaz has planned these things that everything is falling apart, but then it all works out exactly how Kaz wanted it to and it blows me away.
"I would come for you. And if I couldn't walk, I'd crawl to you, and no matter how broken we were, we'd fight our way out together-knives drawn, pistols blazing. Because that's what we do. We never stop fighting."
Overall this book was incredible. It made me laugh. It made me cry. I loved seeing these characters working together and growing together. They have the most fun and craziest adventures. They just have an incredible dynamic and I loved it. I loved seeing the characters we met in the Shadow and Bone books. I loved seeing the world just come together. The only thing I didn't like was the ending. It seemed a little lacking. There just wasn't anything solid for any of the characters. It was so open-ended and I get that the books in this world aren't over, so it makes sense. But it was just not a satisfying ending. Other than that, I loved everything about this book, even the heartbreak. I have to go read King of Scars now, bye.
Keep on reading lovelies, Amanda.