Summary:
Tessa Gray should be happy –aren't all brides happy? Yet as she prepares for her wedding, a net of shadows begins to tighten around the Shadowhunters of the London Institute. A new demon appears, one linked by blood and secrecy to Mortmain, the man who plans to use his army if pitiless automatons, the Infernal Devices, to destroy the Shadowhunters. Mortmain needs only one last item to complete his plan.
He needs Tessa.
Charlotte Branwell, head of the Institute, is desperate to find Mortmain before he strikes. And Jem and Will, the boys who lay equal claim to Tessa's heart, will do anything to save her. For though Tessa and Jem are engaged, Will is still in love with her.
The last words of a dying Shadowhunter provide the clue that might lead Tessa and her friends to Mortmain. But their small group cannot stand alone, and the powerful Consul doubts that Mortmain is coming. Deserted by allies, the Shadowhunters find themselves trapped when Mortmain seizes the medicine that keeps Jem alive. With his best friend at death's door, Will must risk everything to save the girl they both love.
To buy Will time, the warlock Magnus Bane joins with Henry Branwell to create a device that could help defeat Mortmain. As they all work to save Tessa and the future of the Shadowhunters that resides with her, Tessa realizes that the one person who can save her is herself—for, in the discovery of her own true nature, Tessa could become more powerful than she ever dreamed possible. But can a lone girl, even one who can command the power of angels, face down an entire army?
Danger and betrayal, secrets and enchantment, and the tangled threads of love and loss intertwine as the Shadowhunters are pushed to the very brink of destruction in the breathtaking conclusion to the Infernal Devices trilogy.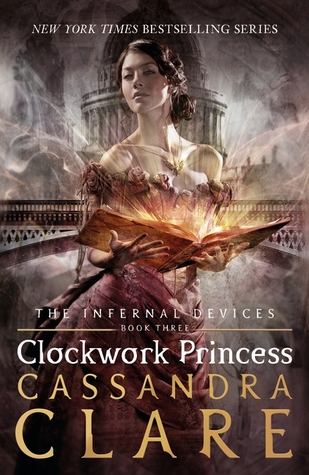 Review:
Guys, I'm FINALLY finished with this freaking series. I'm so happy to have finally finished these books. I'm over this story. I'm over these characters. I'm over the horrible and terrifying robot clockwork creatures. The first half of Clockwork Princess was painful. There was so much running around trying to figure out what to do next, trying to deal with political drama, trying to plan their next move against Mortmain. Which is all well and good, usually I love that kind of stuff in fantasy books, but I don't like the time period. I don't like the mindset that is put onto the women in this series. I hate the Consul because he's a sexist jackass and causes so much unnecessary conflict and I wanted to punch him. I did like how Charlotte did her best to combat this attitude and Tessa comes around also trying to defy these kinds of expectations.
The people that die in this book are not okay. I'm not okay with it and I never will be. Like, I hated one of them anyway, but that didn't mean I wanted them to die. And the other was a death I was expected. It was talked about as something inevitable so I wasn't too worried about it. I just had to mention these because I had completely forgotten about one of them.
I liked Tessa more in this book than the others. Aside from the whole love triangle, I liked Tessa by herself. I think she grew a great amount throughout the series and I love me some character growth. I really enjoyed finally learning about who and what she was. I also totally wasn't mad about the ending that gave us a view into the rest of her life until 'present day.' Jem is still and will forever be a soft boy and that's all I'm going to say about him. Will is still annoying. I wasn't really invested until his sister came around. I absolutely adored his relationship with his sister. They made me laugh. I love sibling relationships is books almost every time. Gabriel and Gideon were another sibling pair that I loved. I totally loved their conflict with each other. They had some really great character growth. I also absolutely adored both of their love interests. And then my favorite, Charlotte and Henry. They are really my absolute favorites. I love them to pieces.
No surprise here, but I liked the supporting characters more than the main characters. This is something that seems to be a trend with Cassandra Clare's books. The same thing happened when I was rereading The Mortal Instruments books. Overall, I don't want to say that I didn't like this series because there were some things I didn't like and some things that I did. I think the ending of this final book really brought everything together for me. My absolute favorite was all of the connections made toward the end of this books (READ: The Ghost of the London Institute & Cortana & "That's a story for another day about a different set of Lightwood's and Heronale's). I totally loved all the little tidbits that nodded toward the other series in the Shadowhunter worlds. It's just incredible how complex and connected these books all are. Cassandra Clare is an incredible author and I'm so excited to keep going with the books in this world.
Keep on reading lovelies, Amanda.