Summary:
Ketterdam: a bustling hub of international trade where anything can be had for the right price—and no one knows that better than criminal prodigy Kaz Brekker. Kaz is offered a chance at a deadly heist that could make him rich beyond his wildest dreams. But he can't pull it off alone…
A convict with a thirst for revenge.
A sharpshooter who can't walk away from a wager.
A runaway with a privileged past.
A spy known as the Wraith.
A Heartrender using her magic to survive the slums.
A thief with a gift for unlikely escapes.
Kaz's crew are the only ones who might stand between the world and destruction—if they don't kill each other first.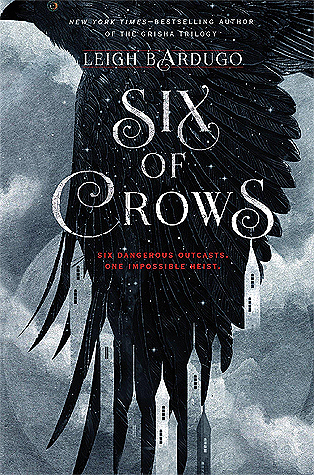 Review:
I've been rereading so many of the books I've read and loved over the years, but don't remember every detail about. Six of Crows is one of those. I haven't read this duology since the second book came out in 2016. I thought now would be the perfect time to reread these books before I got my hands on King of Scars at the end of January.
"When everyone knows you're a monster, you needn't waste time doing every  monstrous thing."
Rereading this book was exciting and wonderful. I loved being back inside this world with these characters. Ketterdam is one of my favorite fictional worlds. It's. complex and dark, filled with corners you really should stay out of and all the scheming you could imagine. I love the world of Grisha. It has the ability to suck me in, chew me up, and spit me out at the final page. I was so engrossed in this story that I didn't want to put it down. I spent several nights staying up later than I should to read more pages.
"The water hears and understands. The ice does not forgive."
The characters were equally as good as the setting. They were complex and dark, each with their own story to tell. Kaz Brekker, our fearless leader, has such an interesting backstory. Dark and gritty, he does whatever he needs in order to reach his goals. Getting to learn his backstory definitely humanized him as the story went on. He wants everyone to think he's the big bad, but he cares more than he's willing to admit.
"Better terrible truths than kind lies."
Inej, the Wraith, is another character that will do what she needs to as long as it brings her closer to her goals. Sold into slavery, then into the Dregs, she does what she must to survive while trying to keep her conscious clear, not always successfully. She sees the best in her friends even when they don't deserve it. Nina is probably my favorite though. She's sassy and fierce, loyal and caring. She doesn't take anyone's shit and she stands up for what she believes in. I'm so excited to see where Nina's story goes in King of Scars.
Jesper was the comedic relief of the group. He turns everything into a joke because he can't stop and take time to think about what his life has become. He is impulsive and it's not always a good thing. Then there's Wylan, sweet and soft Wylan. A merchant's son, he joins the Dregs to escape a life that seems better than it is. He's constantly trying to prove himself and that he is worthy to be a part of the team. I think he's my favorite. I love a good soft boy. Then there's Matthias, the opposite of a soft boy. He's full of nothing but conflict and a need for revenge. I think Matthias has the best character arc and development. He's fighting to decide between the girl he's grown to care for and the things he's always known and believed in.
"Greed may do your bidding, but death serves no man."
These characters all together create the most interesting and conflicted squad, which makes for interesting times as they sail to another country to kidnap someone, a mission that is very likely to fail. All of the different personalities combining in the adventures they go on is guaranteed to be a good time full of laughs, danger, and maybe even a little death. This is still one of my favorite books. It's just so good. Leigh Bardugo will forever be my Queen. If you haven't read this book yet, what are you waiting for?
Keep on reading lovelies, Amanda.