Top Ten Tuesday is a meme hosted by The Broke and the Bookish. Each week has a different prompt for you to make a top ten list about. This week is Top Ten Books You Would Classify As ALL TIME FAVORITE BOOKS from the past 3 years (you can extend it to 5 if you need to).
I expected this topic to be really difficult for me. When I saw it I immediately texted Amanda freaking out. But she didn't panic with me; she simply pointed out that I reread alot of books. With this reassurance in mind, I sat down with my book lists from previous years, positive I could find ten favorites even if I had to use only rereads. Then a funny thing happened: I didn't need any. Within ten minutes, I had ten books/series' for my list with no need to use all the old favorites I've had for years. Which is how I've come to the conclusion that almost every book I read instantly becomes a new favorite. I'm still trying to decide if this has any downsides…
So here are my top ten all-time favorites from the last three years (in no particular order):
1. Bloodlines series by Richelle Mead- I love Sydney. I adore Adrian. This is a series I could read over and over again.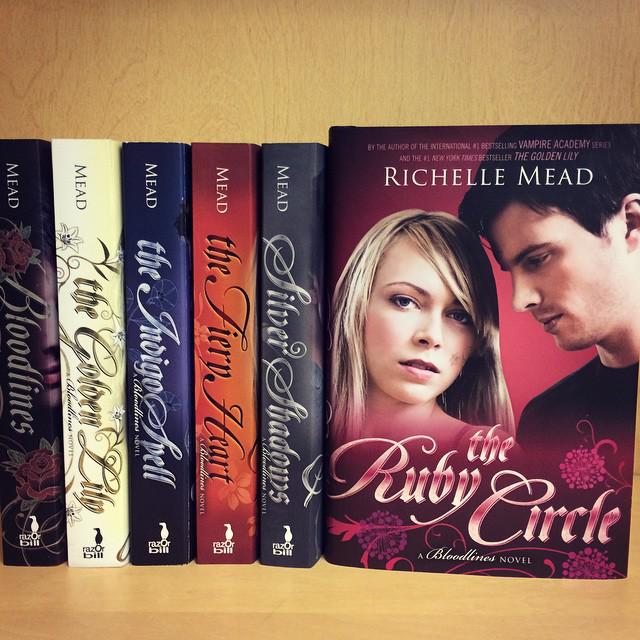 2. The Witness by Nora Roberts- My favorite Nora Roberts book. It has everything I love about her writing.
3. Seven Realms series by Cinda Williams Chima- These are the types of books I wasn't expecting to like but as soon as I started I couldn't put them down. I even had to take emergency trips to the library to get the rest of the books. It's one of the most well-written YA series I've ever read.
4. Lux series by Jennifer L. Armentrout- This is another one I got because I was bored but didn't have much hope for it. It was an instant favorite for Amanda and I.
5. Maximum Ride series by James Patterson- Everything about these books is amazing. They're quick, fun, emotional reads that I would recommend to everyone.

6. Crown of Vengeance by Mercedes Lackey and James Mallory- I was waiting a couple years for this book to come out and it didn't disappoint. Lackey and Mallory can do no wrong together.
7. Looking For Alaska by John Green- Amanda spent years trying to get me to read this book but I kept putting her off. When I finally read it, I was instantly in love.
8. Sun and Moon, Ice and Snow by Jessica Day George- I didn't expect to love this book as much as I did. Everything about it was perfect.
9. The Statistical Probability of Love at First Sight by Jennifer E. Smith- I'd expected this book to just be a silly YA romance but it wasn't even close. Smith took a childish idea, like love at first sight, and made it sweet and reasonable. I loved it so much I immediately went to the library to get her other books (i.e. #10).
10. This Is What Happy Looks Like by Jennifer E. Smith- I found this book emotional, funny, and romantic. I'll definitely be looking for more of Smith's books.

Do you share any of these favorites? Let me know some of yours in the comments. Thanks for reading.
-Antonia