Summary:
Who would have guessed that four minutes could change everything?
Today should be one of the worst days of seventeen-year-old Hadley Sullivan's life. Having missed her flight, she's stuck at JFK airport and late to her father's second wedding, which is taking place in London and involves a soon-to-be stepmother Hadley's never even met. Then she meets the perfect boy in the airport's cramped waiting area. His name is Oliver, he's British, and he's sitting in her row.
A long night on the plane passes in the blink of an eye, and Hadley and Oliver lose track of each other in the airport chaos upon arrival. Can fate intervene to bring them together once more?
Quirks of timing play out in this romantic and cinematic novel about family connections, second chances, and first loves. Set over a twenty-four-hour-period, Hadley and Oliver's story will make you believe that true love finds you when you're least expecting it.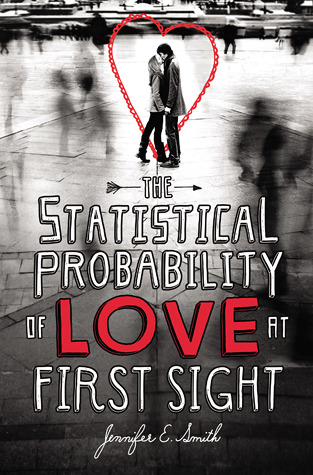 Review:
Antonia and I recently went to the library and took out a ton of books. This was one of hers but she thought I would like it, so I gave it a try. She was right. I did enjoy reading this book. The Statistical Probability of Love at First Sight (TSPOLAFS) was a cute, romantic, quick read. I think I liked this book mostly because the main character Hadley was so relatable. She's on her way to her dad's wedding, to a woman she's never met before. Her parents divorce pretty recently. I am a child of divorced parents myself, and when I was younger it was something I had a really hard time with, similar to how Hadley is feeling in the book. I think relatable characters are one of the most important things to have in a book. I liked TSPOLAFS because I grew attached to Hadley, because she was going through something I've had to go through in my life too. So I understood what she was feeling. Hadley was a very positive character, aside from the moaning and groaning about her dad. She tried to find the silver lining wherever she was and I liked that a lot. She was also very spontaneous which added some entertainment to the story.
The part I enjoyed the most about this book was following Hadley in her slow acceptance and forgiveness toward her dad. She has many harsh feelings about him when the book starts and is pretty much forced to go to his wedding. Hadley makes the best out of it and ends up meeting a boy in the process. I really like reading about Hadley and her dad closer to the end of the book. She finally lets him in and she leans on him in her time of need. This was something I really liked because her dad tries throughout the whole book to better his relationship with his daughter. He never stops trying. So he's there when Hadley finally crumbles from everything going on around her. She lets her dad into her life and tries to make the effort he's been making all along. I really didn't like Hadley's dad at first. Mostly because of the divorce being his fault. He definitely proved himself to his daughter in these pages.
Now, the boy I mentioned, Oliver. He meets Hadley in the airport right after she's missed her flight by four minutes. Oliver is mysterious and funny and charming. Everything a cute British boy should be. The two talk about so much on the seven hour flight together. At first the relationship seems innocent, but as the book goes on it becomes intense very quickly. I really liked reading about these two together.
This book was a good, quick, entertaining read that I would suggest to any young adult reader. The characters were fun and relatable. The story line was interesting enough. Overall I liked this story, so you give it a try too.
Keep on reading lovelys, Amanda.